ООН

Надежный партнер Часть 1
UNDAF Outcome 6
OUTCOME 6. DISASTER RISK REDUCTION AND ENVIRONMENT

People in Tajikistan are more resilient to natural and man-made disasters resulting from improved policy and operational frameworks for environmental protection and sustainable management of natural resources.
KEY RESULTS IN 2016
• Supported development of the New National DRM Strategy for 2017-2030 in line with Sendai framework;
• Emergency and recovery support provided to 8,000 people following disasters;
• Contributed to reducing the risks of flooding and mudflow in 5 districts bordering Afghanistan through the construction of flood protection facilities.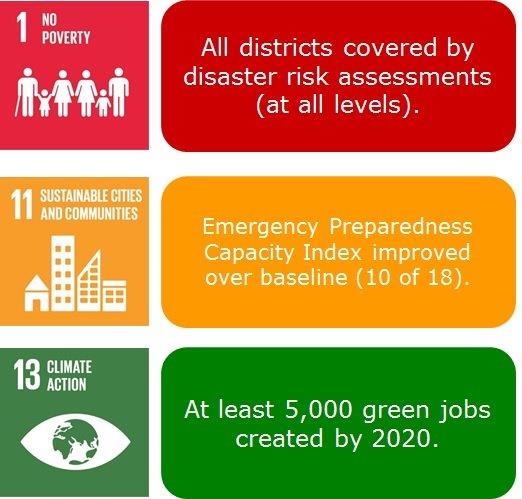 Partners and coordination:
· Ministry of Health and Social Protection of Population of Tajikistan,
· Ministry of energy and water resources,
· State Epidemiological and Sanitary Surveillance Service,
· State Agency on Hydrometeorology of RT;
· Committee of Environmental Protection under the Government of RT
· Agency for Land Reclamation and Irrigation
· Forestry Agency under the Government of RT
· National Biodiversity and Biosafety Centre,
· National Platform on DRR,
· Committee for Emergencies and Civil Defense,
· SCOs working in the sector
· REACT