ООН

Надежный партнер Часть 1
UNDAF Outcome 4
OUTCOME 4. NUTRITION AND FOOD SECURITY

The nutritional status of the people in Tajikistan is improved through stable access to sufficient, appropriate and safe food; improved child feeding practices; better water and sanitation and improved access to quality health care.
KEY RESULTS IN 2016
• Supported inter-sectoral coordination for improved nutrition and reduction of stunting among children;
• Strengthened Food Security and Nutrition data generation for evidence-based targeting and programming including for management of acute malnutrition and prevention of obesity among women and children;
• Supported the formulation of the National Food Security Programme (2020) focusing on promotion of domestic production.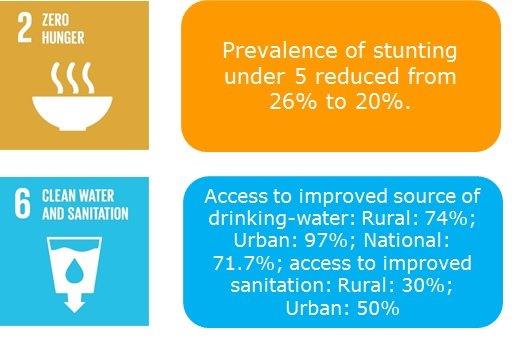 Partners and coordination:
· Ministry of health and Social protection,
· Ministry of Agriculture,
· Ministry of Energy and Water Resources;
· Ministry of Industry and New Technology,
· Agency on Statistics under President of the Republic of Tajikistan,
· Ministry of Education and Science;
· Ministry of Economy Trade and Development;
· Ministry of Finance