ООН

Надежный партнер Часть 1
UNDAF Outcome 3
OUTCOME 3. HEALTH , EDUCATION, SOCIAL PROTECTION

People in Tajikistan benefit from quality, equitable and inclusive health, education and social protection systems.
HEALTH - KEY RESULTS IN 2016
• Support to development of national level strategies and programmes such as Strategic plan for family based primary health care 2016-2020;
• National Programme on HIV in the Republic of Tajikistan for 2017-2020;
• National Reproductive, Maternal, Newborn, Child and Adolescent Health Action Plan 2016-2020 to strengthen the quality and accessibility of services through, defining RMNCAH services package and its costing;
• Service delivery: Significant number of children benefited from essential health interventions for example: Deworming - 1,700,000 children; Vaccination– approx. 470,000 children.
EDUCATION & SOCIAL PROTECTION - KEY RESULTS IN 2016
• Education. Supported 432 Early Childhood Education centers (ECE) serving 10,000 boys and girls with the awareness campaign launched, promising increased enrollment;
• Ensured that 53% of primary school children are regularly receiving nutritious school meals;
• Social protection. Supported drafting of the National Social Protection Strategy 2016-2020 based on the life cycle approach facilitating more integrated social protection programme;
• Supported establishment of a new Unit on Social Protection Policy Analysis under the MHSPP to strengthen M&E system.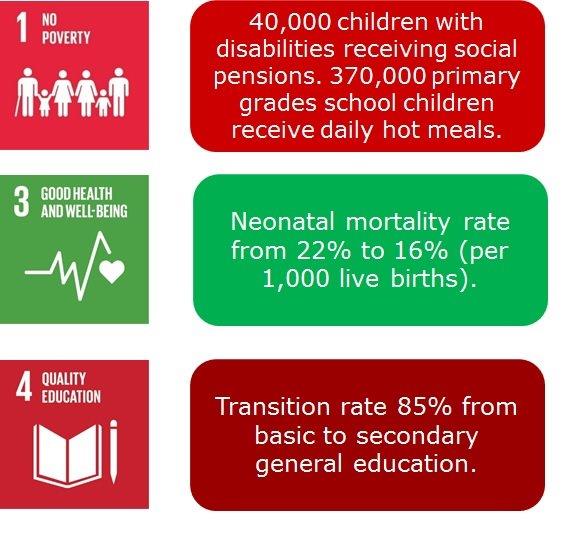 Partners and coordination:
· Ministry of Health and Social Protection of Population,
· Ministry of Finance,
· Ministry of Economic Development and Trade,
· Ministry of Education,
· Agency on Social Protection, Agency on Social Insurance and Pensions
· Committee on women and family affairs,
· Agency on Statistics under President of the Republic of Tajikistan,
· Committee on youth, sport and tourism,
· Agency on Civil Service under President of the Republic of Tajikistan,
· Health institutions,
· Local province and districts health authorities and local self-governments
· CSOs active in this area