ООН

Надежный партнер Часть 1
Let's stop HIV together - awareness raising campaign in honour of Youth Day conducted in Tajikistan
On May 23, 2014, UN Joint Advocacy Project on HIV/AIDS (UNAIDS, UNDP, UNFPA and UNICEF) in Tajikistan, The WHO Country Office in Tajikistan in cooperation with Committee on Youth, Sports and Tourism of Sino district celebrated the Youth Day.
Series of events on the occasion of the Youth Daywere conducted in the capital park named after A. Rudaki.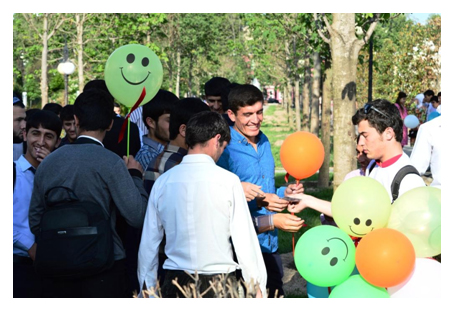 "Today's youth is going to build tomorrow's future. They build the nation and they together build the world. Each one has his/her own responsibility in building a healthy world. The main reason to say that the solution of this problem is in the hands of youth is that they have more understanding power and they have more ability. Teenagers should understand their problems clearly. They should have self control and they should be motivated to concentrate on good aspects of life. They should have awareness about the preventive measures of HIV/AIDS virus", underlined Mr. Gulomov Sunatullo- Coordinator of cultural events of Committee on Youth, Sports and Tourism of Sino district of Tajikistan.
During the event,different programmes dedicated to Youth Day were organized on the part of city colleagues' students. The messages on HIV/AIDS prevention and importance of healthy lifestyle among youth were sounded during this event. The programme consisted of several show performances with the involvement of students and youth.
"Students of the colleges must be encouraged by their teachers and they should be taken to the rural areas, schools other educational institutions, offices etc. to conduct street plays bring about the awareness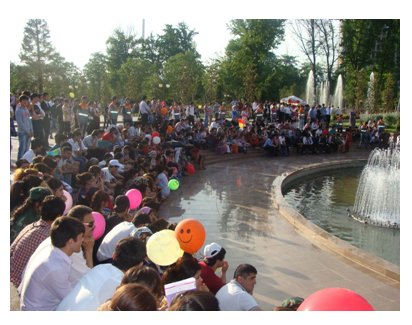 among the people and the people should be taught clearly the preventive methods and symptoms. Youth should take the responsibility in conducting various types of competitions and exhibitions in various schools, colleges regarding the awareness and prevention of HIV/AIDS", mentioned Rukhshona, 20 years old student of economics and active participant of the activity.
It has to be mentioned that around 5000 information, education and communication materials on HIV/AIDS prevention were disseminated among young people, during realization of this event.
For more information, contact: Bakhtiyor Mirzoev, Advocacy and Communication Officer, UN Joint Advocacy Project on HIV in Tajikistan at: bakhtiyor.mirzoev@undp.org.