ООН

Надежный партнер Часть 1
'UN FOR All: DIGNITY AND INCLUSION IN THE UN WORKPLACE' TRAINING UNDER THE UN CARES INITIATIVE WAS CONDUCTED IN DUSHANBE
3 November 2017, Dushanbe - The Resident Coordinator Office and United Nations Country Team in partnership with UN Cares held 5-day training sessions from 30 October for UN staff under the title – "UN for All: Dignity and Inclusion in the UN Workplace"at the UN building in Dushanbe.
This training is being conducted in all UN offices around the world with the aim of building a more inclusive UN-system to ensure the dignity and well-being for personnel and family members. The training is focused on the issues of human rights, sexual orientation and gender identity, disability, mental health and substance use. Training sessions were facilitated by Mr. Rahim Saatov, UN Cares Regional Consultant/ UN for All trainer.
"UN Cares is for us to be a role model for the country, a role model for stakeholders, who we work and, who we need to work with to promote these values in the country. So, it is very important that we started from UN family and learn to make the workplace a place where everybody feels welcome, everybody feels respected and everybody feels happy to work. So, this is the most important principle behind UN Cares. Every year we adopt particular topic to focus on and the topic for this year is how to make UN fully inclusive workplace, which is respectful of diversity. Also, this is an effort to contribute to global campaign that UN is running which is zero HIV infection, zero death because of AIDS and zero discrimination," said in her welcoming speech Dr. Pratibha Mehta, UN Resident Coordinator and UNDP Resident Representative in Tajikistan.
"I feel very strongly that we can be advocates of human rights if we believe in human rights and if we practice human rights. I would like to emphasize that it is very important to introspect and confront your own stereotypes to make space internally to imbibe new behaviors. Thank you," she added.
During these 5 days, around 100 UN staff members had an opportunity to learn more about HIV/AIDS issues, the human realities related to sexual orientation and gender identity, disability, mental health status and substance use,understanding workplace ethics, and hearing from LGBTI communities regarding the challenges they face.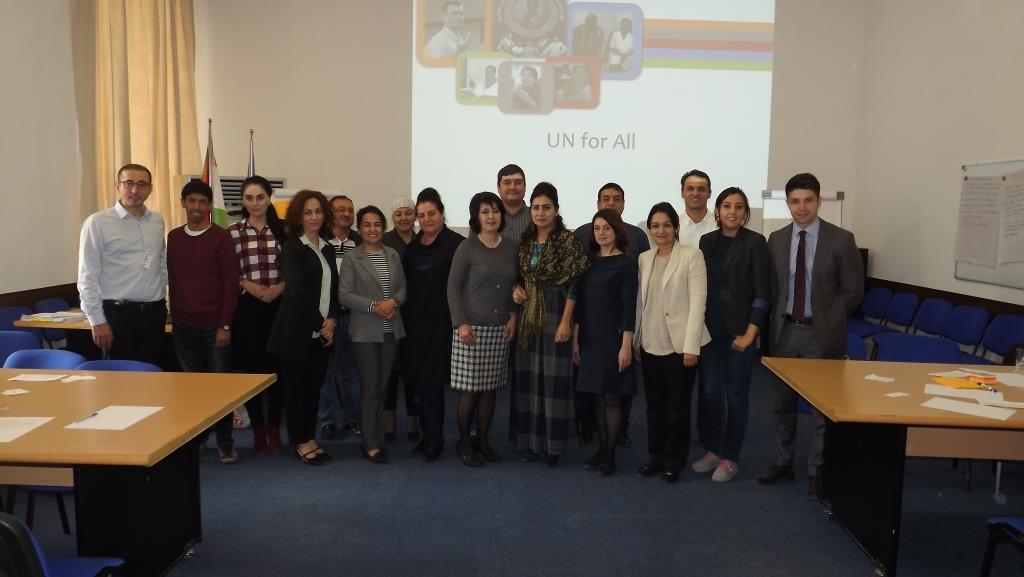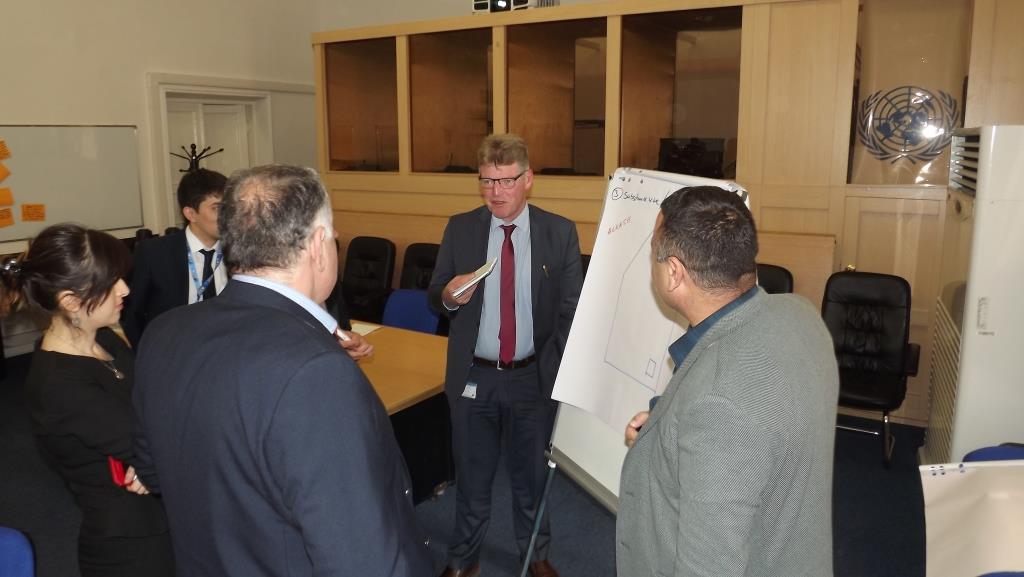 ****
Information: The UN Cares has been developed through interagency consultation between UNAIDS Cosponsors and other agencies. It is a single harmonized programme available to UN system personnel and their families in all entities and all duty stations, designed to help them to access their rights defined in the 1991 United Nations HIV/AIDS Personnel Policy and in the ILO Code of Practice on HIV/AIDS and the World of Work and recognize their individual responsibilities related to HIV. The UN Cares in Tajikistan was launched in 2009 and numerous activities have been conducted and information on UN Cares 10 Minimum Standards shared among UN staff which are: 1. Information about UN Policies and Benefits relating to HIV; 2. Information about Preventing Transmission of HIV and accessing HIV related services; 3.Learning and Training Activities on Stigma and Discrimination; 4. Access to Male and Female Condoms; 5. Voluntary Counseling and Testing; 6. Insurance covering HIV-related expenses; 7. Confidential Handling of Personal Information; 8. First Aid Using Universal Precautions; 9. Rapid Access to PEP starter kits; and 10. Managerial Commitment.
For more information, contact: Dr. Ulugbek Aminov- UNAIDS Country Manager in Tajikistan at AminovU@unaids.org or Bakhtiyor Mirzoev, Advocacy and Communication Officer, UN Joint Advocacy Project on HIV in Tajikistan at bakhtiyor.mirzoev@undp.org