ООН

Надежный партнер Часть 1
UN, Government and Tajikistan Football Federation Organize Football Match to Promote Sustainable Development Goals in Tajikistan
21 October 2017, Dushanbe – The United Nations Country Team in collaboration with the Tajikistan Football Federation and the Government of Tajikistan marked the 25th year of partnership of the UN in Tajikistan as well as the 72nd anniversary of UN establishment to be observed on 24 October and promoted the Sustainable Development Goals (SDGs), by holding a football match that brought together representatives of the Government of Tajikistan, UN agencies, the media and sports communities, held at the Manej Sports Complex, Dushanbe.
Entitled "Score Goals for Tajikistan!", the match aimed at increasing awareness of all involved partners and audience on the SDGs, as well as the commitment of Tajikistan in achieving the results and strengthening partnership for the implementation.
The event with a goodwill football match of male and female teams composed of the UN, Government representatives, Tajikistan Football Federation and National women's football team was fortified with interactive sessions on SDGs and quizzes with participants. The match advocated SDGs implementation with a special focus on SDG 5 (Gender Equality), SDG 10 (Reduced Inequalities), SDG 17 (Partnership for the Goals), and the general SDG agenda for ending poverty in all its dimensions, irreversibly and everywhere.
"The Sustainable Development Goals, adopted by all UN Member States, are everyone's goals. They should be the goals of every one of us who live on this planet," said Dr. Pratibha Mehta, UN Resident Coordinator and UNDP Resident Representative in Tajikistan.
"Let us remember that women are a game-changer and key participants in the process of achieving sustainable and inclusive development. We will need to have strong commitment to women and girls' empowerment within our society," she added.
"In modern times, the role of football in society has become an introduction of social responsibility programs, and it is already used to advocate SDGs. Football Federation and UNICEF are already implementing football as a tool to promote a peace, health and education, through "Football Comes to You" project", said Mr. Dilshod Juraev, Vice-President of the Tajikistan Football Federation.
A series of events of SDG Awareness Month engaging local population have already started, and few are yet planned to take place in October to promote SDGs and the 25th anniversary of UN and Tajikistan partnership.
In September 2015, at the 70th General Assembly, the UN Member States unanimously endorsed the Agenda 2030 containing the 17 SDGs. Tajikistan was among first countries that made commitments and real actions to nationalize SDGs. The Goals are comprehensive and ambitious, encompassing the economic, social and environmental dimensions of sustainable development with a view to 'Leaving No One Behind' in development process.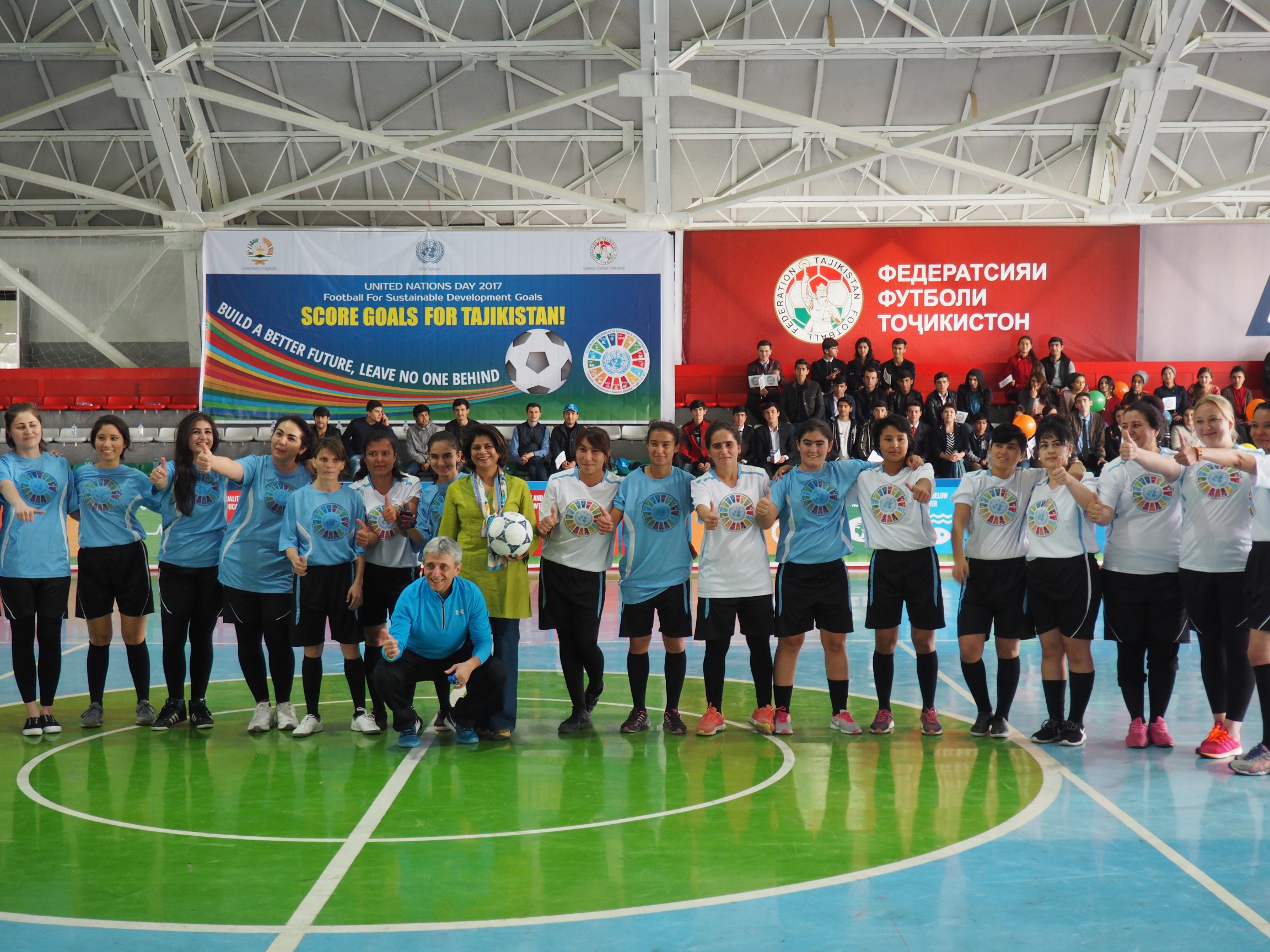 Women's Team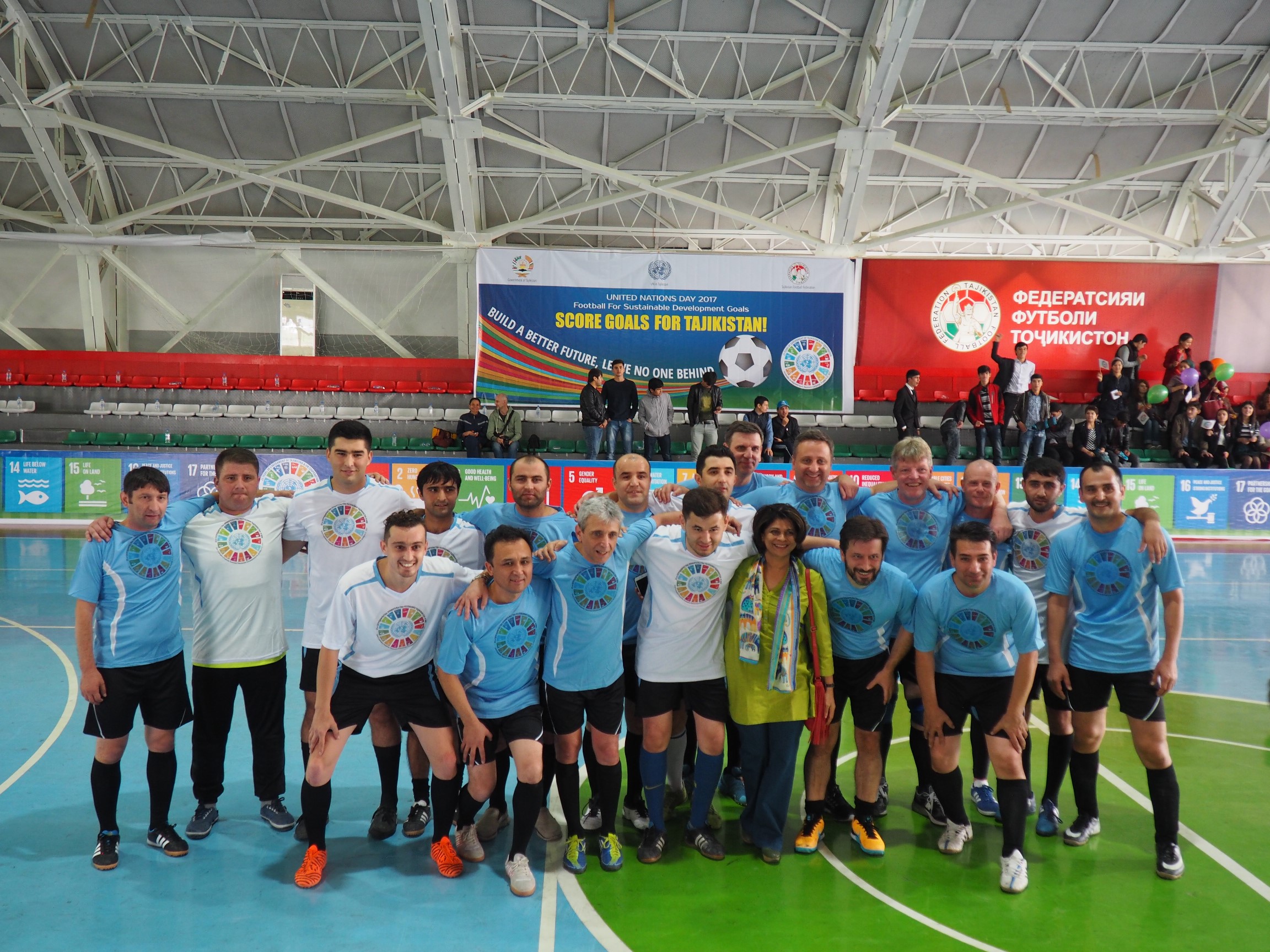 Men's Team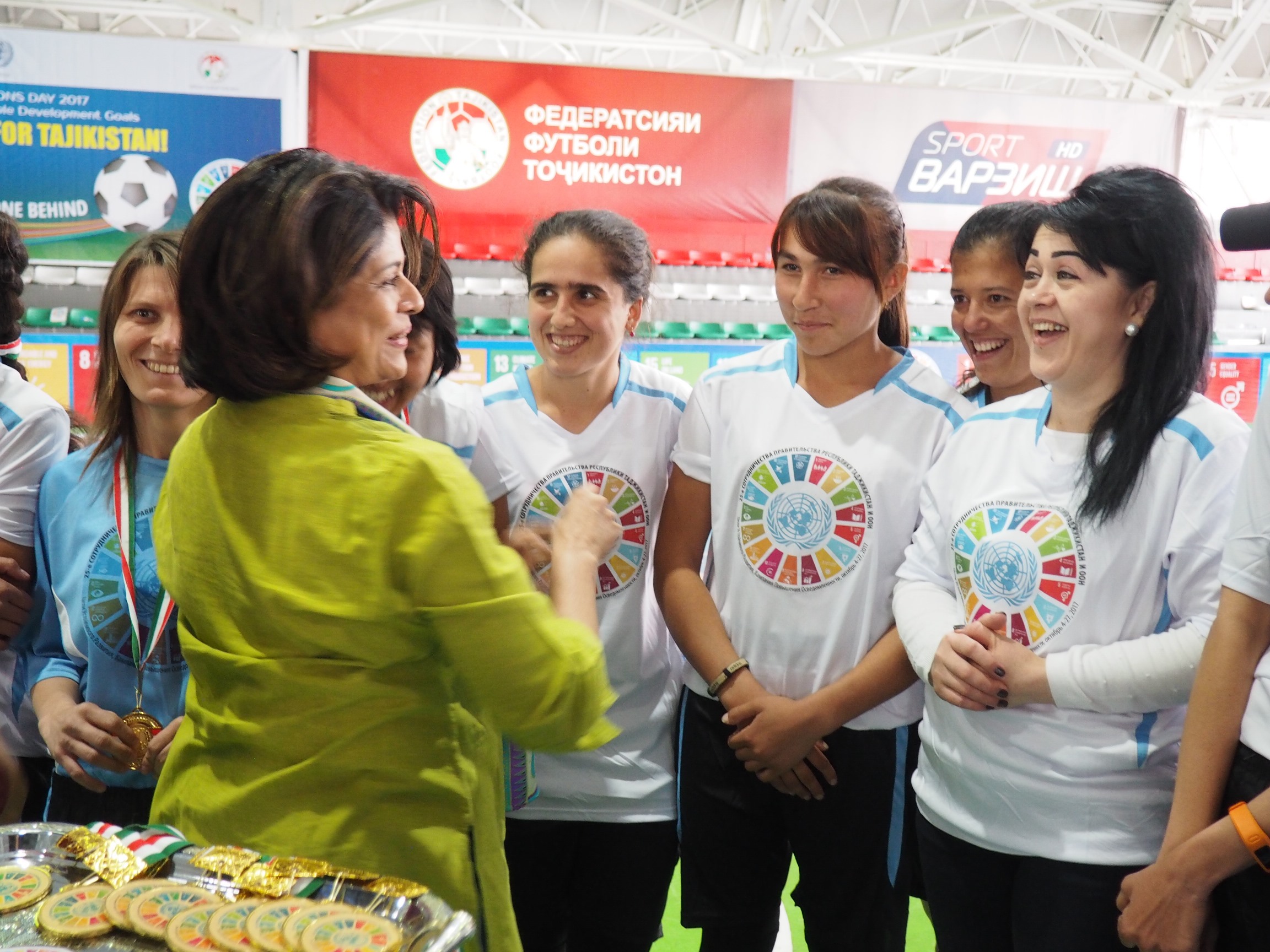 Awarding ceremony
*****
UN has been active in Tajikistan for 25 years since 1992 during the conflict resolution process, reconciliation in 1997 with UN mediation (UNMOT observers deployment in 1994-2000), post conflict rehabilitation and addressing the socio-economic needs. UN through United Nations Development Assistance framework (UNDAF) assists the Government of Tajikistan in implementation of country priorities reflected in the National Development Strategy 2016-2030, Mid-term Development Programme 2016-2020 and achieving the Sustainable Development Goals 2030.
United Nations and Tajikistan – 25 Years of Partnership