ООН

Надежный партнер Часть 1
SDG Awareness Month and celebrating 25 years of Republic of Tajikistan and United Nations Partnership, October 2017, Tajikistan
The United Nations Tajikistan is rolling out the first Sustainable Development Goals (SDGs) Awareness Month with a range of events and advocacy activities throughout October.
Tajikistan is the first country in the Central Asia Region to mainstream SDGs in its National Development Strategy 2030 and present its 1st SDG National Voluntary Review in the High Level Political Forum in the UN/ECOSOC. The UN Agencies in Tajikistan with government are organizing events spotlighting on poverty eradication, food security, nutrition, girl child, disaster risk reduction and partnership. While virtually launching the SDG Awareness Month, the UN Resident Coordinator, Ms. Pratibha Mehta, said "17 SDGs are people's goals for a better world, the October SDG campaign is to contribute in public awareness in Tajikistan through series of events which will bring government, UN, NGOs, private sector, academia and students together in partnership for SDG implementation and to celebrate 25th anniversary of Republic of Tajikistan and UN partnership for sustainable development".
Detailed information of the events and activities will be updated here.
Stay tuned and follow us at: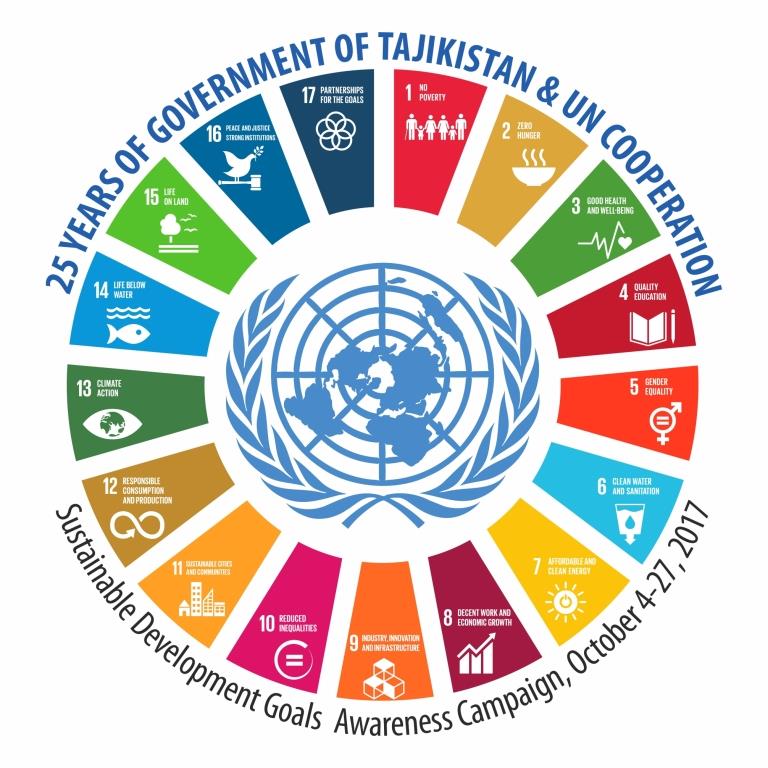 ---
Месяц осведомленности о ЦУР и празднования 25-летия Партнерства Республики Таджикистан и Организации Объединенных Наций
Октябрь 2017 г.
Таджикистан
Организация Объединенных Наций Таджикистан развертывает первый месяц достижения осведомленности о целях в области развития (ЦУР) с целым рядом мероприятий и информационно-пропагандистских мероприятий в течение всего октября. Таджикистан является первой страной в регионе Центральной Азии, которая включила ЦУР в свою Национальную стратегию развития 2030 и представила свой 1-й национальный добровольный обзор на политическом форуме высокого уровня в ООН / ЭКОСОС. Агентства ООН в Таджикистане вместе с правительством организуют мероприятия, направленные на искоренение нищеты, продовольственную безопасность, питание, прав девочек, снижение риска бедствий и партнерство. Во время запуска месяца осведомленности о ЦУР, Постоянный Координатор ООН г-жа Пратибха Мехта отметила: «17 ЦУР - это цели людей для лучшего мира, октябрьская кампания по ЦУР должна способствовать информированию общественности в Таджикистане через ряд событий, которые объединят правительство , ООН, НПО, частный сектор, научные круги и студентов вместе в партнерстве по реализации ЦУР по средством празднования 25-летия партнерства Республики Таджикистан и ООН в целях устойчивого развития ».
Подробная информация о мероприятиях и мероприятиях будет обновлена здесь.
Оставайтесь с нами и следуйте за нами: