ООН

Надежный партнер Часть 1
Hip-Hop and Rap music concert in support of world aids day – "Hands up for #hiv prevention" held in Dushanbe
December 1, 2016 UN Joint Advocacy Project on HIV/AIDS (UNAIDS, UNDP, UNFPA, UNICEF) in Tajikistan and Civil Society Organization "Spin Plus" in close cooperation with national and international organizations host a charity concert dedicated tothe World AIDS Day 2016. This year's World AIDS Day (WAD) theme - "Hands up for #HIV prevention" aims to emphasize the different aspects of HIV prevention and how they relate to specific groups of people, such askey populations, people living with HIV/AIDS and youth. The charity concert brought together more than 500 people, who enjoyed the performances of top Tajik hip- hop and rap artists.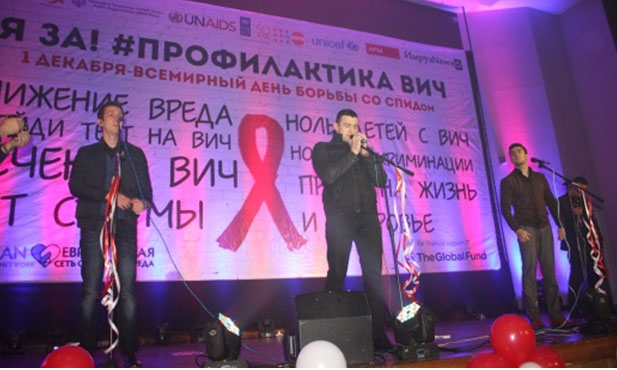 The event was opened by Mr. Navruz Jafarov, Deputy Minister of Health and Social Protection of Population of Tajikistan who in his opening statement mentioned "World AIDS Day is held on the 1st December each year and it is an opportunity for every community to unite in the fight against HIV and AIDS. We know that this is a special day when we must come together and direct our efforts totackle HIV and AIDS. Tajikistan supported ambitious Fast-Track Targets for the prevention of the AIDS epidemic by 2030. Nevertheless, we can achieve these goals only if people are aware of their status and have access to critical services in the field of HIV infection. We especially encourage our youth to protect themselves from infection. Our common task is to prevent or reduce the spread of HIV and AIDS. This can be achieved if people aware on the ways of HIV transmission and know how to protect themselves, know where get treatment, care and prevention services and get tested for HIV. Also we should respect people living with HIV/AIDS (PLHIV) and fight against stigma and discrimination towards PLHIV."
At the same time, Mr. Ulugbek Aminov, UNAIDS Country Manager in Tajikistan in his opening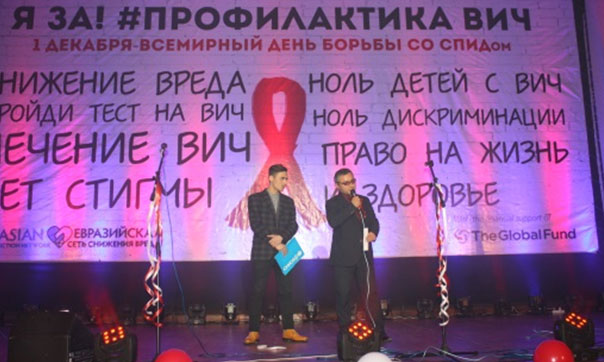 speech has stressed "Today I see many old friends and also many new people who came to support our Campaign. We are all different but we all agree that HIV and AIDS is a big problem and we need to address it urgently. My call is very short: Let's support people affected by HIV and AIDS and let's unite our efforts against HIV and AIDS-related stigma and discrimination in society. Hands up for HIV prevention!"
Pulod Jamolov, director of Civil Society Organization "Spin Plus" has mentioned "Our organization as one of the initiators of this event is working with PLHIV and people who inject drugs (PWID). For us it is very important that today so many young people will have an opportunity to learn more about prevention of HIV and AIDS. We should know that there is such problem as HIV and AIDS but we also should know that you are responsible for your own health and for the health of your loved ones. The most important thing that you need to know is how to protect yourself from this infection. Our organization is always ready to provide information on prevention of HIV and AIDS and where you can get tested for HIV and get the treatment. Also I would like to raise my hand for prevention, for care and for life, thanks to all."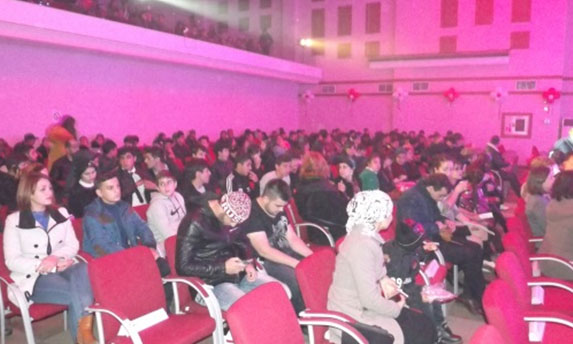 The participants enjoyed hip-hop and rap music concert and became the witnesses of real stories of people living with HIV, who shared their stories regarding their illness and how their managed to overcome their fair and started live a full life. The objective of this Campaign wasto support World AIDS Day 2016 "hands up for #HIV prevention" initiative aimed to draw attention of public to the aspects of HIV prevention, harm reduction, testing and others. Posters and postcards have been produced with the main theme message, as well as individual messages that were printed and shared on social media.In cooperation with the Republican AIDS Center incities and districts of Tajikistan the action dedicated to the WAD conducted. From November 15 to 29 November 2015 the Republican AIDS Center announceda campaign of Voluntary Counseling and Testing. During this period everyonewas able to go for voluntary counseling and testing for HIV.
International advocacy Campaign "Train of humanity" launched on November 9 at the railway station Dushanbe - Moscow. During this Campaign in total 200 train passengers were provided by information materials on HIV and AIDS prevention. Events dedicated to World AIDS Day held in secondary schools, colleges and universities, in jamoats in rural and urban mahallas in institutions, hospitals, public parks, etc. The Radio Quiz in FM Radio Stations of Dushanbe involved listeners through all over the country, which had a great opportunity to find out the basic information about HIV/AIDS. Also in cooperation with voluntary organizations around20 000 IEC materials on HIV/AIDS prevention disseminated among students of city colleagues of Dushanbe and other regions of the country.
For more information, contact: Ulugbek Aminov, UNAIDS Country Manager at: AminovU@unaids.org or Bakhtiyor Mirzoev, Advocacy and Communication Officer, UN Joint Advocacy Project on HIV in Tajikistan at: bakhtiyor.mirzoev@undp.org.