ООН

Надежный партнер Часть 1
Solemn speech of Ms. Mieko Yabuta, UNFPA Country Director for Tajikistan, delivered during the opening ceremony of the International Youth Day commemoration in Dushanbe, Tajikistan, August 12, 2016
Honorable Parliamentarian, Representative of the Dushanbe City Youth Department, friends, guests, and colleagues, I'm happy to welcome you to the International Youth Day celebration in Tajikistan. 12th of August was declared by the United Nationsas the International Youth Day in 1999 to draw attention of the decision makers and general public on the importance of responding to the needs of the young people. It is also an opportunity to encourage young people to take initiatives to realize their aspirations.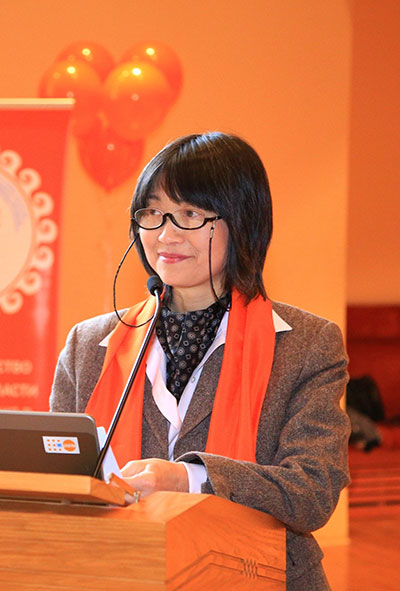 In this connection, UNFPA, the United Nations Population Fund, congratulates the Y-PEER volunteers for their initiative to organize today's event and partners for their collaboration and participation. We now live in the world where we have the largest cohort of young people in the history of humanity. And this represents a huge opportunity for development, but we have to make sure that young people are healthy and educated and integrated in the society so that they can contribute to the economic and social development and ensure the adequate living environment for today's and tomorrow's generations is safeguarded. This year's theme of the International Youth Day, "The Road to 2030: Eradicating Poverty and Achieving Sustainable Production and Consumption," couldn't be more relevant and timely. It focuses on the leading role of young people in ensuring poverty eradication and achieving sustainable development.
Last year, the member states of the United Nations, including Tajikistan, unanimously adopted the 2030 Agenda for Sustainable Development, which requires us to balance the needs of present and future generations, create economic growth without destroying natural resources and adjust consumption patterns while enforcing well-being and dignity of the humanity. To achieve these goals, a fundamental shift is needed. We must make decisions on the allocation of resources while keeping the interests of future generations in mind. So that is why it is important for young people to share their views and participate in the decision making.
On the International Youth Day, let us renew our commitment to empower young people by giving them the space and opportunities they need to create lasting change in our world. I wish you a very productive and enjoyable event today.
Tasshakur.