ООН

Надежный партнер Часть 1
Meeting of the President of Tajikistan, His Excellency Mr. Emomali Rahmon with Senior UN Officials
On August 8, 2016 The President of the Republic of Tajikistan, His Excellency Mr. Emomali Rahmon had a meeting with the Mr. Gyan Chandra Acharya, Under-Secretary-General and High Representative for the Least Developed Countries, Landlocked Developing Countries and Small Island Developing States (UN-OHRLLS), Mr. Lenni Montiel, Assistant Secretary-General for Economic Development, UN DESA and Ms. Lucia Elmi, UN Resident Coordinator a.i., UNICEF Representative in Tajikistan. The meeting was arranged due to visit of Senior UN Officials to Dushanbe for participation in the High-level Symposium on SDG 6 and Targets "Ensuring that no one is left behind in access to water and sanitation", August 9-11, 2016.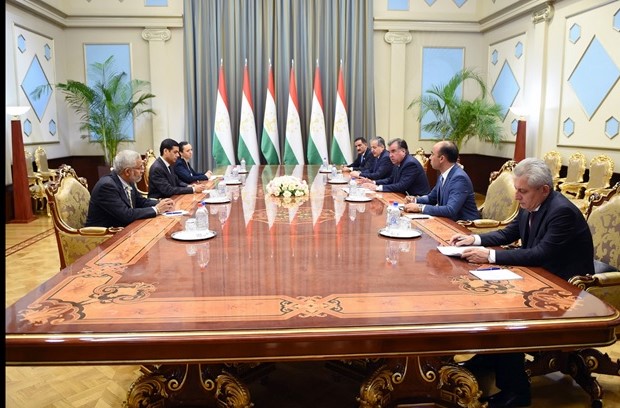 During the meeting the current state and prospects of relations/cooperation between the Republic of Tajikistan and the UN were discussed and the President noted the important role of the UN in promoting, understanding and expanding cooperation between the countries of the world to promote peace and sustainable development, and expressed satisfaction with the level of cooperation of Tajikistan with specialized organizations, offices and agencies of the United Nations.
It was emphasized that during the period 2010-2015 within the framework of fruitful cooperation of Tajikistan with numerous UN agencies about 100 projects in the fields of public administration reform, education, health, social welfare, agriculture, environmental sustainability, and disasters risk reduction have been implemented.
During the meeting the issues related to the High-level symposium on SDG 6 and Targets "Ensuring that no one is left behind in access to water and sanitation", the importance of this international event in the life of today's world population have been discussed.
Photo is retrieved from http://www.president.tj/en/node/12722