ООН

Надежный партнер Часть 1
TRAINING ON EPIDEMIOLOGICAL SURVEILLANCE OF HIV INFECTION WAS LAUNCHED IN DUSHANBE
From 16 - 20 December, 2013 in Dushanbe the national training on epidemiological surveillance of HIV infection for epidemiologists from AIDS prevention and control centers of the country has started. The event held in the framework of the regional cooperation programme to combat HIV/AIDS and other infectious diseases, funded by the Government of the Russian Federation, in close collaboration with the Joint United Nations Programme on HIV/AIDS (UNAIDS) and through the Republican Centre for AIDS Prevention and Control under Ministry of Health of Tajikistan.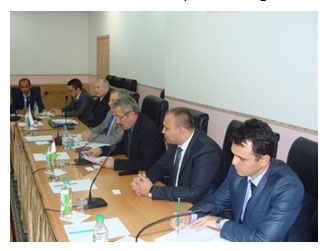 Training sessions will be conducted by the leading experts of the Russian Federation, in particular Dr. Saukhat S., the head of the Southern Regional Center for Prevention and Control of AIDS and infectious diseases and Dr. Shemshura A., head of the laboratory and dispensary department of the Center. This initiative appears as an important step to achieve the one of the main tasks of the Regional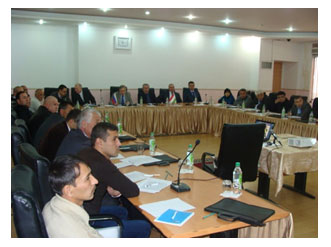 Cooperation Programme - "Strengthening the systems of the epidemiological surveillance for HIV, other sexually transmitted infections, and hepatitis among population, who is particularly vulnerable to these diseases and hard to reach for health systems".
"This training is one of the most important activities to enhance the potential of the medical personnel of the country on key issues in the field of surveillance of HIV infection, the introduction of innovative approaches for monitoring of HIV infection, which is very essential for our local specialists at this moment" - mentioned Mr. Azam Mirzoev, Deputy Minister of Health and Social Protection of Republic of Tajikistan.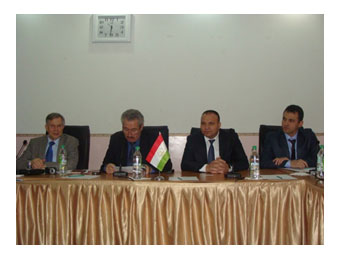 It should be noted that this event will increase the capacity of AIDS Centers in the ongoing epidemiological surveillance issues and gradual implementation of the electronic tracking system of HIV infection cases in their work. Electronic tracking provides for professionals the cut down approach to access the information about people living with HIV (PLHIV), on wide range of services provided by them in the course of antiretroviral therapy (ARV) and etc. Automated analysis of the available data and actions taken according to the results can significantly increase the effectiveness of care for PLHIV (ARV, support, treatment), in many cases preventing the development of AIDS among patients.
Information: Technical Assistance Programme for Countries of Eastern Europe and Central Asia in Combating Infectious Diseases started in summer 2013. The programme is funded by the Government of the Russian Federation, with the implementation period 2013- 2015. The Joint United Nations Programme on HIV/AIDS (UNAIDS) appears as the direct partner agency, responsible for the overall implementation of the programme and provision of the technical assistance in the countries. Practical implementation of activities in the country, within the regional programme is implemented by the Ministry of Health and Social Protection of the Republic of Tajikistan, in particular, the Republican AIDS Prevention Center and Control, with technical assistance of UNAIDS.
For more information, please contact Dr. Ulugbek Aminov- UNAIDS National Programme Officer in Tajikistan at: AminovU@unaids.org.