ООН

Надежный партнер Часть 1
AWARENESS RAISING CAMPAIGNS ON HIV/AIDS DEDICATED TO WORLD AIDS DAY CONDUCTED IN DUSHANBE
On December 2, 2013, UN Joint Advocacy Project on HIV/AIDS (UNAIDS, UNDP, UNFPA and UNICEF), along 7 with the Public Youth Organization "Equal to equal" celebrated the World AIDS Day 2013 "Getting to zero: zero new HIV infections. Zero discrimination. Zero AIDS related deaths", in Russian Tajik Slavonic University (RTSU).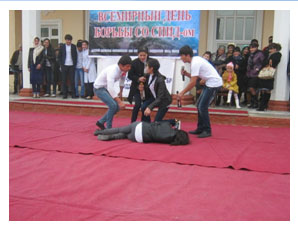 This year the World AIDS Day Campaign focused on "Zero AIDS related deaths", which signifies a push towards greater access to treatment for all. With the same slogan, series of awareness and social activities were organized by the active students of Russian Tajik Slavonic University (RTSU).
The students organized their own programme dedicated to the World AIDS Day. The programme consisted of several show performances with the involvement of the students and volunteers.
Also in cooperation with Committee on Youth, Sports and Tourism of Sino district in three main city streets (I. Somoni,
A.Rudaki, M.Tursunzoda), around 5 000 IEC materials on HIV/AIDS prevention among population were disseminated, with
assistance of 30 volunteers, generally young people.
During the awareness campaign dedicated to Youth Day, Mr. Gulomov S.- Coordinator of cultural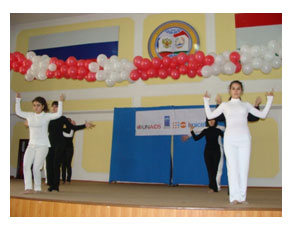 events of Committee on Youth, Sports and Tourism of Sino district of Tajikistan underlined -"Youth is the most vulnerable part of the society, who should be considered as one of the important parts of the society. Youth is our future and they should be aware on the importance of protecting their health, particular in the matter of such serious disease as HIV/AIDS".
Rustam - the active volunteer mentioned "I have been a volunteer since 2009, and I like to help people. Today we disseminated information materials like leaflets, booklets, posters on HIV/AIDS prevention among population to promote healthy lifestyles. I think Informing youth on prevention of HIV is a very important tool to fight HIV. HIV/AIDS is a very serious disease and we should know how to protect our health and help those in needs".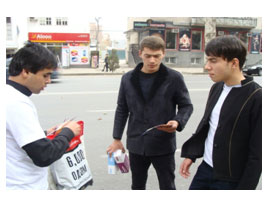 Information: December 1st is a World AIDS Day. For the first time, this day was commemorated in 1989 as a call to unite the world against AIDS. In April 1991, painter Frank Moore designed Red Ribbon to attract public opinion to AIDS problems. 2013 World AIDS Day campaigns continued under the global slogan: "Getting to Zero" - Zero New HIV Infections. Zero Discrimination and Zero AIDS Related Deaths. As of July 2013, 5,144 HIV cases were officially registered in Tajikistan. Over 70% of the registered cases are men. At the same time, the number of newly registered cases of HIV infection among women has increased by three times during the last years, including the HIV cases among pregnant women. Intravenous drug use remains the driving force of the epidemic in Tajikistan.
For more information, contact: Bakhtiyor Mirzoev, Advocacy and Communication Officer, UN Joint Advocacy Project on HIV in Tajikistan at: bakhtiyor.mirzoev@undp.org