ООН

Надежный партнер Часть 1
UN Cares Country Mission to Tajikistan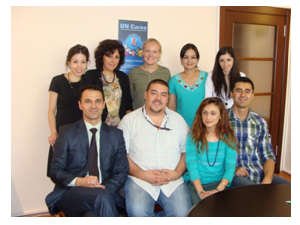 7-9 October, 2013 Ms. Liisa Kaarto UN Cares Regional coordinator for Eastern Europe & Central Asia had her first official visit to Tajikistan.
The purpose of the mission was to support the UN Cares country-level inter-agency team in mobilizing leadership and senior management commitment and agencies participation in UN Cares, support the country-level team in developing in-country collaborative partnerships in support of UN Cares and provide technical assistance to the local UN Cares focal points on the programme.
HIV is having a serious impact not just on our work, but also in our workplace. Absences, illnesses and deaths due to HIV and AIDS have profound implications for staff, their families, and for the UN. Even in countries where HIV is less visible, the UN has an obligation to act. UN Cares is designed to reduce the impact of HIV in the workplace by supporting "universal access" to a comprehensive range of benefits for all UN personnel and their families—including prevention, treatment, care and support.
During the mission a series of strategically important meetings have been organized with the UN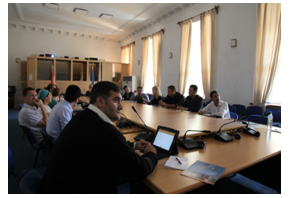 Country Team, UN DSS security advisors, and Operations and HR Management Team to discuss issues relating to the UN Cares 10 Minimum Standards, particularly confidentiality of personal information, HIV learning activities in the UN workplace, PEP (Post-exposure Prophylaxis) management at country level, various other aspects of UN Cares programme, as well as discussion of key programme priority areas for UN Cares in Tajikistan. The UNCT meeting was dedicated to UN Cares programme, and included discussions on different aspects of UN Cares programme, from the general overview of UN Cares at global level, the role of UN leadership in providing managerial support and commitment to UN Cares implementation at country level, to main future priority areas for the programme and key recommendations for UN Cares in Tajikistan.
Ms. Liisa Kaarto UN Cares Regional Coordinator for Eastern Europe & Central Asia mentioned that the devotion of UN management team in Tajikistan to follow and realize the UN Cares 10 Minimum Standards and move forward to achieve all Standards across the UN system workplace was very notable. Moreover, on the last day of the visit, UN Cares inter-agency team in Tajikistan initiated discussions on key priority areas for programme implementation at country level. Issues relating to ensuring confidentiality of personal information, rapid access to PEP treatment, access to male and female condoms, and rolling out HIV learning sessions in the workplace for all UN staff and their families were highlighted as important areas for UN Cares in Tajikistan in the future.
Information: The UN Cares programme has been developed through interagency consultation between UNAIDS Cosponsors and other agencies. It is a single harmonized programme available to UN system personnel and their families in all entities and all duty stations, designed to help them to access their rights defined in the 1991 United Nations HIV/AIDS Personnel Policy and in the ILO Code of Practice on HIV/AIDS and the World of Work and recognize their individual responsibilities related to HIV. The UN Cares in Tajikistan was launched in 2009 and numerous activities have been conducted and information on UN Cares 10 Minimum Standards shared among UN staff which are: 1. Information about UN Policies and Benefits relating to HIV; 2. Information about Preventing Transmission of HIV and accessing HIV related services; 3. Learning and Training Activities on Stigma and Discrimination; 4. Access to Male and Female Condoms; 5. Voluntary Counseling and Testing; 6. Insurance covering HIV-related expenses; 7. Confidential Handling of Personal Information; 8. First Aid Using Universal Precautions; 9. Rapid Access to PEP starter kits; and 10. Managerial Commitment.