ООН

Надежный партнер Часть 1
THE NATIONAL LAUNCH OF THE TECHNICAL ASSISTANCE PROGRAMME FOR COUNTRIES OF EASTERN EUROPE AND CENTRAL ASIA IN COMBATING INFECTIOUS DISEASES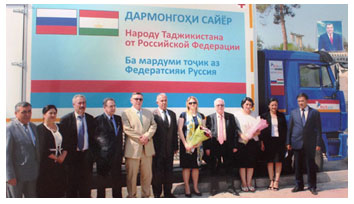 On 10 September 2013 the national launch of the Technical Assistance Programme for Countries of Eastern Europe and Central Asia in Combating Infectious Diseases took place in Kurgan-Tube city of Khatlon Region (Tajikistan).
The Technical Assistance Programme, supported by a three-year grant of US$ 16.5 million from the Russian Government, aims to strengthen health systems, ensure better epidemiological surveillance of HIV, and promote the scale up of HIV prevention programmes among key populations at higher risk in Armenia, Kyrgyzstan, Tajikistan, and Uzbekistan.
The Programme is supported by the contribution of the Russian Government as a leading partner for health and development in countries of the Commonwealth of Independent States, and is being implemented by UNAIDS, in partnership with the non-governmental organization 'AIDS Infoshare'.
The launch was attended by representatives of the Russian Presidential Administration, the Russian Ministry of Foreign Affairs, the Ministry of Health of Tajikistan, the Government of the Khatlon Region, the City of Kurgan-Tube, the Ministry of Health of Armenia, as well as representatives from UNAIDS, 'AIDS Infoshare' and civil society organizations from Russia and Tajikistan.
The HIV epidemic in Tajikistan, affects mainly people who use drugs and now the number of new HIV infections is growing among people migrating abroad for work. Knowledge about HIV prevention remains limited among migrant workers and access to HIV services are not widely available upon their return as most live in rural and hard to reach regions of the country.
At the launch, a Russian-made mobile clinic and diagnostic centre was presented to the Government of the Khatlon Region. Equipped with the latest in medical equipment and diagnostic systems, the clinic will provide populations at higher risk of HIV infection in the Khatlon Region with access to integrated HIV testing, counseling and other forms of medical diagnostics and treatment.
For more information, contact: Dr. Azam Buzurukov Program Manager UNAIDS RCP at: BuzurukovA@unaids.org.