ООН

Надежный партнер Часть 1
INTERVIEW: Heading to Central Asia, UN chief pledges to promote 'common response' to region's diverse challenges
8 June 2015 – Aiming to support and promote a common response to the many cross-border challenges Central Asia faces – from environmental degradation to drug trafficking and water scarcity – United Nations Secretary-General Ban Ki-moon is heading to the region this week for meetings in which he will also touch on key UN priorities, such as ensuring sustainable development and tackling climate change.
Mr. Ban's trip which will cover five countries in as many days, kicks off on Tuesday in Tajikistan, followed by Kazakhstan, Kyrgyzstan, Uzbekistan, and Turkmenistan. On the eve of the trip, his second to the region, the Secretary-General spoke to the UN News Service about what he hopes to accomplish.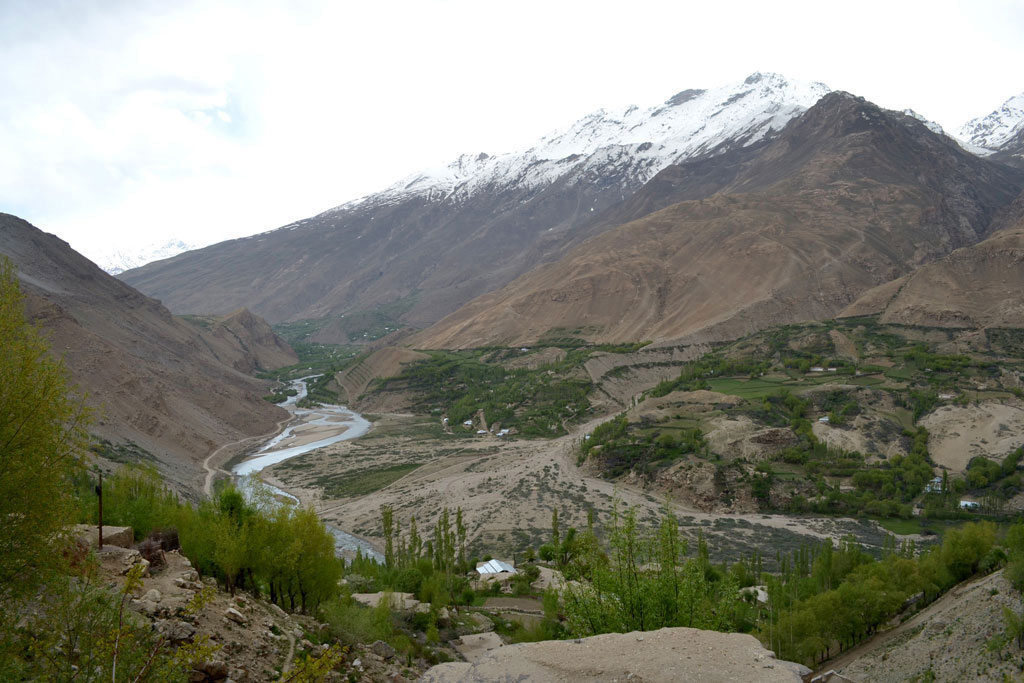 Many communities in Central Asia, like Gorno-Badakhshan Autonomous Province in Tajikistan (shown), are prone to disasters such as flooding and mudslides. The UN is working with the Government to develop a country-wide disaster-resilience strategy. Photo: OCHA/Z. Nurmukhambetova
UN News Centre: This will be your second visit to Central Asia, following your first trip to the region in 2010. Why are you visiting Central Asia this time? What sorts of issues do you hope to raise with the leaders you meet?
I also hope to emphasize the importance of dialogue and cooperation. Countries in the region are seeking to build momentum on many priority issues, such as water and disarmament.
Ban Ki-moon: I fondly remember my visit to all the countries of Central Asia in April 2010, and have been eager to return. I am visiting Central Asia to support and promote a common response to the many cross-border challenges the region faces, including environmental issues, water and energy, drug trafficking and trans-boundary crime.
I also hope to emphasize the importance of dialogue and cooperation. Countries in the region are seeking to build momentum on many priority issues, such as water and disarmament. I encourage further progress in this regard.
I also plan to discuss the countries' progress in meeting the Millennium Development Goals (MDGs) and their priorities for the post-2015 period.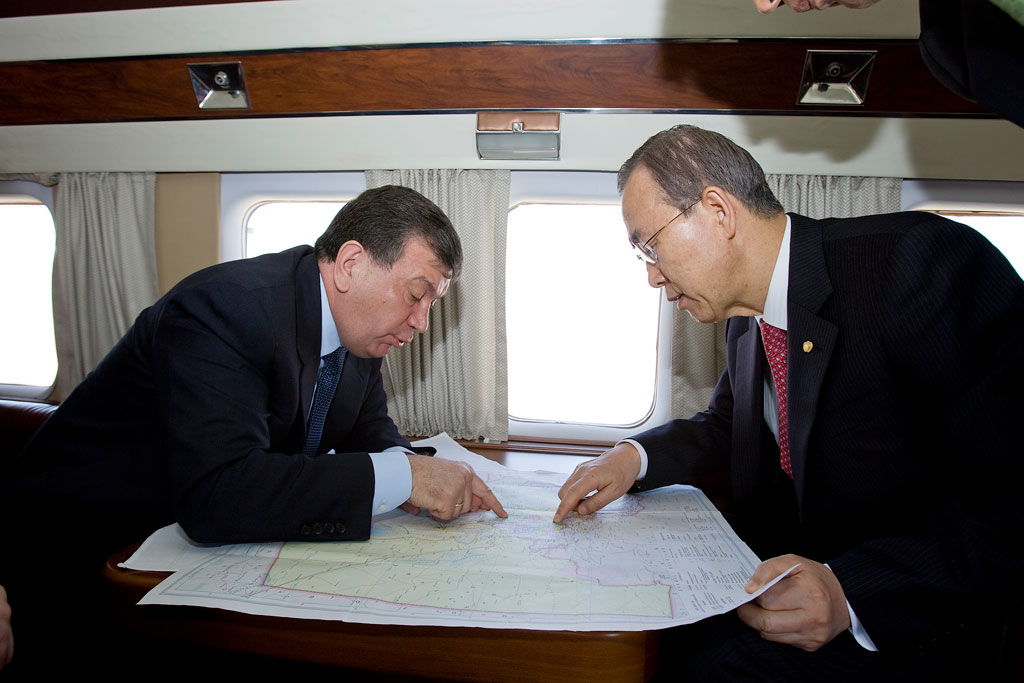 On his visit to Central Asia, in April 2010, Secretary-General Ban is shown consulting a map with Uzbekistan's Prime Minister, Shavkat Mirziyoyev, as their helicopter carries them over the Aral Sea.The land-locked region faces many challenges due to its lack of territorial access to coastal waterways, remoteness and isolation from world markets, Ban said. UN Photo/Eskinder Debebe
On human rights, I welcome the engagement by countries of the region with UN human rights mechanisms, but I believe that much more needs to be done. I will encourage the leaders to uphold and implement the international obligations to which they have committed.
UN Offices in each of the countries and the UN Regional Centre for Preventive Diplomacy for Central Asia (UNRCCA), established in 2008, are working on many of these issues. I am in Central Asia to review progress and collaboration as 'One UN.'
UN News Centre: As we approach the September summit to finalize the post-2015 development agenda, how would you describe the role of Central Asia in helping to define the process?
Ban Ki-moon: We will be soon transitioning to the post-2015 sustainable development agenda. Its implementation depends on global solidarity through a renewed global partnership.
As a land-locked region, Central Asia faces a particular set of challenges, such as the lack of territorial access to the sea, remoteness and isolation from world markets, and high transit costs.
I am heartened that the post-2015 agenda addresses the needs of countries in special situations like this. I applaud the efforts to actively explore transport links within the Asia-Caucasus-Europe region to enhance trade.
This will be a universal agenda with responsibilities for all countries – developed and developing.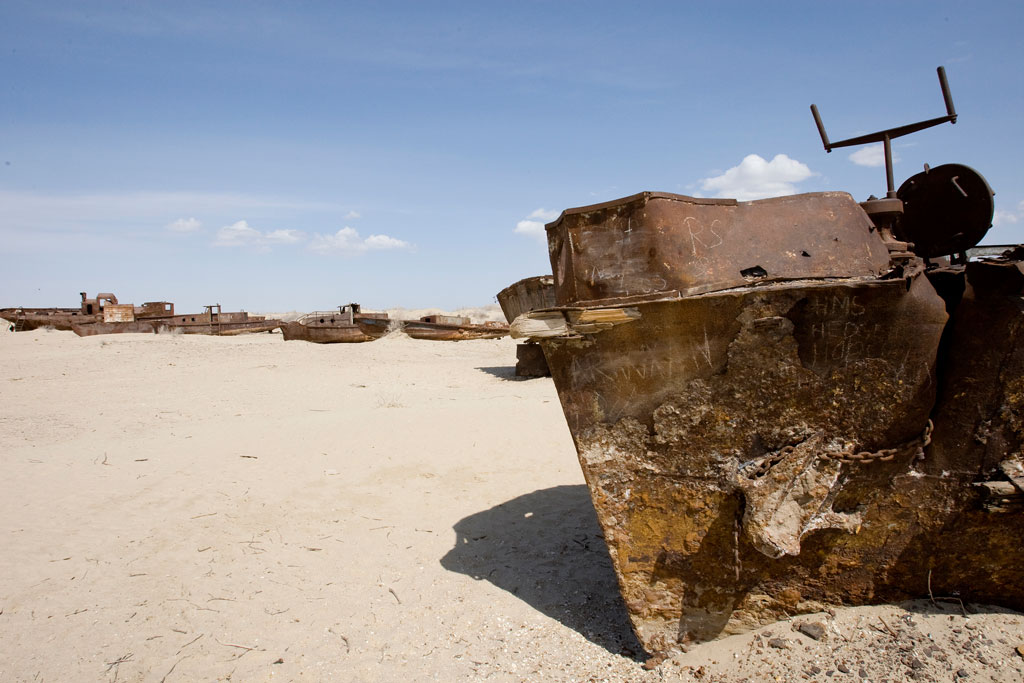 The Aral Sea, once the world's fourth largest lake, has shrunk in size by more than 70 per cent in recent decades after tributary rivers were diverted for irrigation projects. Pictured, a view of a 'cemetery of ships' resulting from the sea's rapid recession, in Uzbekistan's former port city of Muynak. UN Photo/Eskinder Debebe
The role of parliaments, a bridge between citizens and their governments, will be pivotal. They can help to galvanise action and foster accountability and implementation.
I hope all of the countries of Central Asia will participate in the September summit at the highest level.
UN News Centre: Another key event this year will be the December climate change conference. Central Asian countries have been affected by climate change, with the little water that makes its way to the Aral Sea coming from the two main rivers fed by glaciers, which are melting due to rising temperatures. How do you believe Central Asian nations can contribute in addressing the issue?
Ban Ki-moon: I remember my April 2010 visit to the Aral Sea vividly. This disaster was long in the making. Decisions made in the 1960s and 1970s have had profound ramifications: the sea has shrunk, losing 60 per cent of its water volume and doubling in salt content, which has caused significant economic and social deterioration in the region. The purpose of my visit then was to highlight the need to make the right policy decisions to address climate change, food security and the achievement of the Millennium Development Goals, as well as to draw the international community's attention to this disaster and mobilization of support.
Since then, the UN has been assisting the region under its programme on sustaining the livelihoods affected by the Aral Sea disaster, but more attention and mobilization of resources are needed to address the multiplicity of challenges faced by the affected population.
Central Asia is also at risk from rising global temperatures leading to the melting of mountain glaciers. The majority of the region's water – including the little water that still makes its way to the Aral Sea – originates from these glaciers. The melting of these glaciers threatens the region with an even greater ecological catastrophe than even the desiccation of the Aral Sea.
In recent years UN agencies have increasingly focused on climate risk management and climate change adaptation projects in areas of the region that will be impacted most by climate change.
The UN is closely cooperating with governments and development partners to scale up climate-change related projects and mitigate its effects, a global approach will be key to address climate change, and in this, the cooperation of the Central Asian countries will be essential.
Since climate change affects us all, it is a challenge that we must address and face together, and I look forward to the support of the countries of the region to reach a universal, meaningful agreement on climate change this December in Paris.
UN News Centre: During your last visit you said you were shocked to see first-hand the consequences of the Aral Sea tragedy. What do you think needs to be done to address the issue of the sharing and management of trans-boundary water resources in the region?
Ban Ki-moon: Recent events, including the President of the General Assembly's High-level Interactive Dialogue on the "Water for Life" Decade at the end of March 2015, have noted the strain in water resources that is being experienced by Central Asian States.
The countries of Central Asia are all interconnected by shared water resources, which also provide essential services such as food and energy.
Yet these resources are limited and are expected to come under increased strain in the coming years.
As economies grow there is danger of increased competition and increasing risk of conflict over water among the different water users.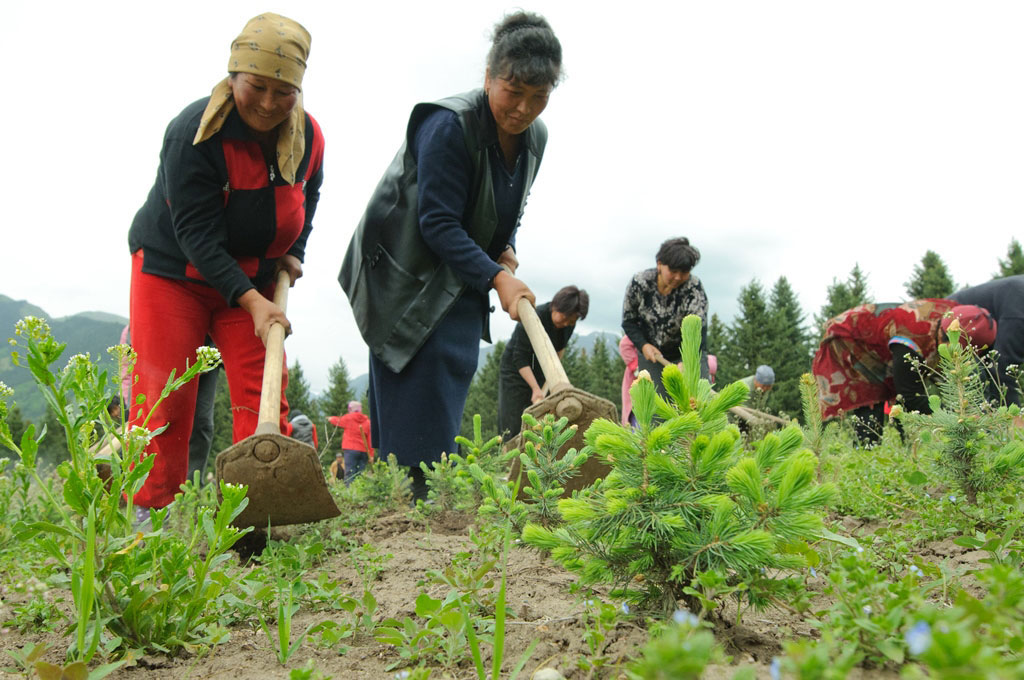 In Kyrgyzstan, soil erosion caused by years of deforestation took its toll on communities like Shaidan village (above), decimating agricultural production and family incomes. A UN World Food Programme reforestation project - under which 1.5 million trees were planted in mountainous areas to prevent avalanches, mudflows and landslides - has revived livelihoods for thousands of farmers here and in neighbouring villages. Photo: WFP/Maxim Shubovich
So far, no regional solution has emerged for ensuring the mutually beneficial management of water.
The UN Regional Centre for Preventive Diplomacy for Central Asia is working closely with the countries of the region on a mutually beneficial solution to improving water sharing in the long term. Transboundary water cooperation and integrated water resources management are essential to the region's long-term development.
UN News Centre: During the recent 2015 review conference of State Parties to the Nuclear Non–Proliferation Treaty (NPT), many expressed concern over the setbacks in the process of nuclear disarmament. Five Central Asian countries declared the region a nuclear-free zone. How do you think these nations can use their experience to help promote a nuclear-weapon-free world?
Ban Ki-moon: Nuclear-weapon-free zones have played an important role in advancing nuclear disarmament and non-proliferation, as well as enhancing regional security. To date, more than 100 States have signed up to the five zones that exist today.
The experience of Central Asia, the only zone where nuclear weapons were once present, serves as an example to other States aspiring to create such zones.
The swift ratification of the Protocol to the Treaty on a Nuclear-Weapon-Free Zone in Central Asia is a symbol of the nuclear-weapon States' continuing commitment towards a world free of these weapons. I hope this will provide the necessary momentum towards the goal for a world without nuclear weapons.
No other weapons have the potential to inflict such wanton destruction on our world, and removing the dangers they pose is a historic imperative of our time.
UN News Centre: The UN has its Regional Centre for Preventative Diplomacy for Central Asia, headquartered in Turkmenistan. How can the UN help manage the geopolitical risks in the region, such as drug trafficking and terrorism?
Ban Ki-moon: The [UNRCCA] is a demonstration of the important partnership between the UN and the region. It constitutes an impressive commitment by each country in the region to the search, through dialogue, for common approaches to shared challenges.
Central Asia is facing a number of serious transnational threats and challenges, such as international terrorism, extremism, drug trafficking as well as issues such as environmental security, climate change and management of transboundary waters.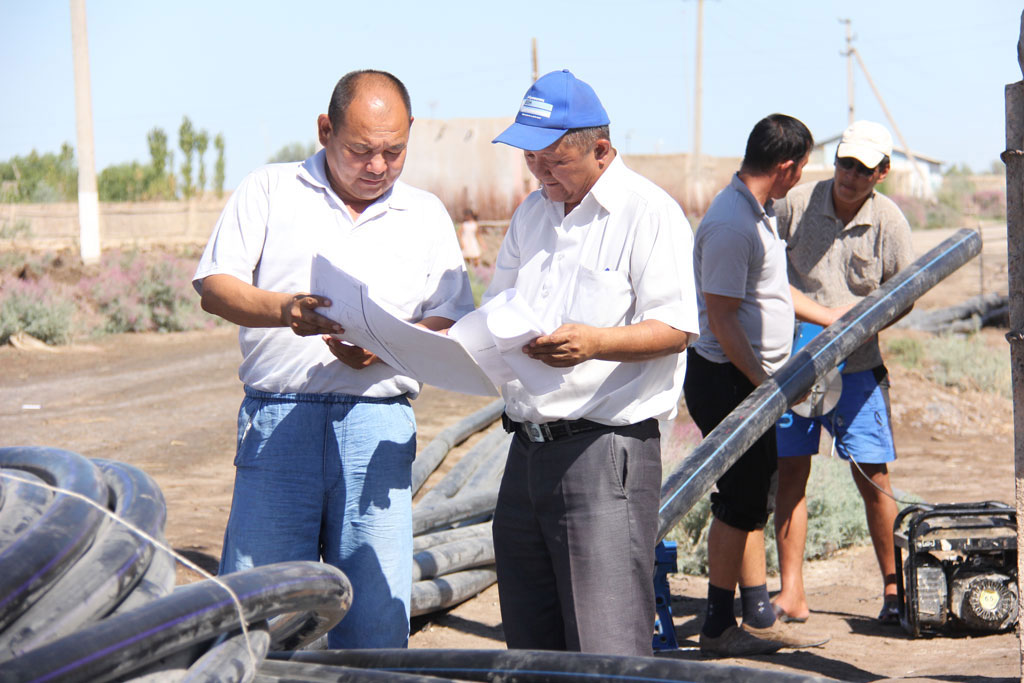 Water resources are limited in Central Asia and are expected to come under increased strain in the coming years, said Secretary-Genral Ban. Under a joint UN programme - "Sustaining Livelihoods Affected by the Aral Sea crisis" - the UN is working to bolster access to safe drinking water in remote communities like the Shumanay district (above) in Uzbekistan. Photo: Arislan Kannazarov
UNRCCA has been instrumental in promoting the principles of preventive diplomacy, through the good offices of the Special Representative of the Secretary-General, and provision of various platforms for dialogue for the counties of the region.
The 2011 Joint Plan of Action developed with the support of UNRCCA with the aim of increasing coordination in countering terrorism is another good example of collective efforts in implementing the Global Counter-Terrorism Strategy.
On drug trafficking, Central Asia is used as a transit route for the trafficking of Afghan opiates. The UN, particularly through the UN Office on Drugs and Crime (UNODC), has an important role to play in building the capacity of each country in the fight against drug trafficking. UNODC-supported projects are underway in all countries to build capacity, to reinforce border control for example or boost information collection. The UN also has a role in encouraging regional cooperation to combat drug trafficking, including through UNRCCA.
UN News Centre: When you visit Kazakhstan, you will be attending a gathering of religious leaders in Astana. What do you think countries in the region can do to fight extremism and intolerance?
Ban Ki-moon: Kazakhstan's initiative for the Congress of Leaders of World and Traditional Religions is a contribution to a critical global conversation about promoting religious tolerance and advancing the universal right to freedom of religion and beliefs.
I have long called for all religious communities to be treated equally and fairly. People should be allowed to peacefully practice their beliefs free from discrimination and fear of intimidation. Laws related to these freedoms should be in line with international human rights standards.
Central Asia, like many other regions, faces growing security challenges, including terrorism.
The Central Asia Joint Action Plan [...] aims to increase coordination in counter-terrorism efforts. It is the first regional framework designed to address the threat of terrorism through a common approach, based on the UN Global Counter-Terrorism Strategy and strengthened international partnership.
Source: http://www.un.org/apps/news/