ООН

Надежный партнер Часть 1
The workshop on using the findings of the UNAIDS gender assesment of HIV response to identify what works for women was conducted in Dushanbe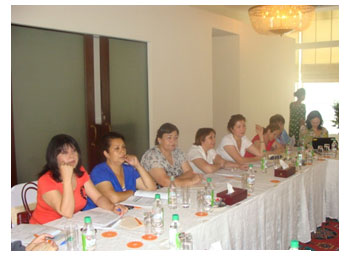 August 6, 2013 in Dushanbe with the initiative of UNAIDS the workshop on using the findings of the UNAIDS Gender Assessment Tool to identify what works for women was conducted.
This activity was held on the basis of three day workshop on testing and piloting of the Gender Assessment Tool for HIV Responses, which was conducted on March 2013.
More than 30 key participants from Committee of women and family affairs of Tajikistan, National center on HIV, UN, donors, International and local civil society organizations, organizations representing PLHIV, network of women living with HIV, MSM and representatives of Mass Media took part at the workshop.
Hege Wagan- Senior Gender Adviser, UNAIDS HQ has mentioned that: "The main objective of the workshop is through using the findings from Gender Assessment in Tajikistan, provide support and create consensus on evidence based interventions appropriate for the local context using the approach of What Works for Women, with the goal of creating a more gender transformative HIV response in Tajikistan. This approach will use a compendium of peer-reviewed effective interventions that is tailored to their specific context and needs. Country stakeholders will be better able to base programming decisions, proposals and funding allocations on the evidence, ensuring a more effective use of scarce resources".
During the workshop it was mentioned that the main outcomes of the workshop appear to strengthen the knowledge and awareness of national stakeholders on how to identify the most effective gender transformative HIV interventions for Tajikistan context, using the What Works for Women platform; Identify and agree on evidence based priority interventions addressing the current gaps identified in the Gender Assessment of the national HIV response and agree on priority short, medium and long term interventions and map how they can be rolled out at country level.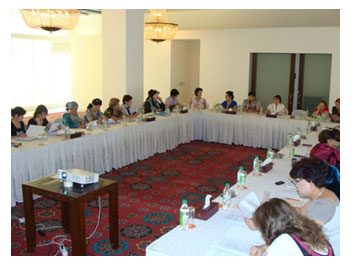 During the workshop, women living with HIV have mentioned that while the commonest infection route is via shared needle use among drug users, experts note an increase in the number of women infected by husbands returning from time spent away working as labour migrants. The risk of transmission from husband to wife is very high and many labour migrants get infected with HIV by casual sexual partners, as a result of their own ignorance about sexual hygiene. Also participants were concerned on critical question for any government considering the purchase of ARVs and how long patients will be provided by these drugs. Women also mentioned that the cases of stigmatization are very notable in the society. Such stigmatization is a consequence of the low level of awareness."Awareness-raising campaigns should be conducted among population in order to support the effective prevention and treatment for HIV/AIDS, mentioned PLHIV.
It was noted that the assessment will support to identify the priorities for further strategic planning process and resource mobilization in the area of HIV/AIDS, and to achieve gender equality and elimination of gender-based violence through integration of gender and HIV issues in the broad national agenda in accordance with effective and targeted utilization of the resources. This information will be used for the promotion and advancement of women and girls' needs, gender equality related to HIV issues in national and sub-national levels and to identify what works for women.
Information: 12-14 March, 2013 in Dushanbe with the initiative of UNAIDS three day workshop on testing and piloting of the Gender Assessment Tool for HIV Responses was conducted. During the event, it was noted that Tajikistan appears as one of the five countries along with Jamaica, Djibouti, Rwanda and Bolivia which was selected for testing of this tool and conducting the piloting of gender assessment of HIV response according to this tool. The testing of the tool was conducted with technical assistance of the public organization GESTOS (Brazil) and agreed with key national partners. The main goal of the Gender Assessment is to provide strategic information for policy and decision makers, specialists from different areas at the national and local levels, representatives of civil society and international partners on justification and advocacy tools on the current situation of the gender aspects of HIV response in the country.
For more information, contact: Dr. Maria Boltaeva, UNAIDS Country Officer at: boltaevam@unaids.org or Bakhtiyor Mirzoev, Advocacy and Communication Officer, UN Joint Advocacy Project on HIV in Tajikistan at: Bakhtiyor.mirzoev@undp.org.