ООН

Надежный партнер Часть 1
Tajikistan strives to establish a social protection floor for all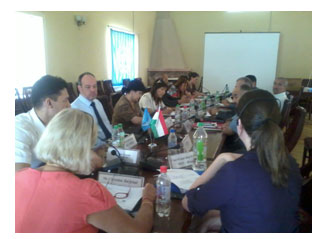 On 2-4 July 2013, the Social Protection Floor training organized Vahdat city of Tajikistan. Tripartite Partners of Tajikistan – representatives of Ministry of labour and social protection of population, Employer`s Union and Federation of Independent Trade Unions, UNICEF, WHO, Ministry of health, Ministry of Economy and Trade, State Committee of women and family affairs and international experts attended the training course. Training was organized with the financial support of the ILO project "From the Crisis towards Decent and Safe Jobs" fund by the Government of Finland.
Social protection floors are nationally-defined sets of basic social security guarantees which secure protection aimed at preventing or alleviating poverty, vulnerability and social exclusion. These guarantees should ensure at a minimum that, over the life cycle, all in need have access to essential health care and basic income security. In line with the Social Protection Floors Recommendation, 2012 (No. 202), which was adopted by the International Labour Conference (ILC) at its 101st session in June 2012, Tajikistan strives towards the extension of social security coverage and the establishment of at least a social protection floor for all.
The aim of the course was to analyze the situation on the basic social benefits and reach public consensus on specific programmes of minimum social protection measures Initiative, as well as, to train national leaders and planners of social policy, as well as technical and administrative staff who carry out such programmes.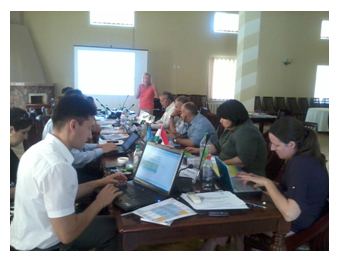 Participants are trained on instruments to analyze the gaps of the minimum level of social protection. Representatives of government ministries, the social partners and international organizations are shared with the international experience on the social protection floor achievements.
Three days training course was informative and a first one organised to promote the social protection floor initiative in Tajikistan.
First day of the training was a lecture-based and started with a presentation of Ms. Christine Bockstal and Ms. Clara van Panhuys, international experts from ILO Geneva, on "Evolution of the Social Protection Floor-Initiatives". International experts particularly highlighted important role of SPF in labour market participation. Further, experts brought international experience on the national SPF in the world. Ms. Mariko Ouchi, Social Security Specialist of ILO Moscow, provided important parts of the ILO Conventions # 102 (Social Security Minimum standards) and the ILO Recommendation #202 (Social Protection Floors). Her presentation included the ILO social security standards and their main tools.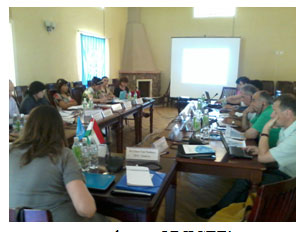 During the second and third days of the course participants made presentations relevant to their activities on the current situation in Tajikistan, achievements, challenges and perspectives. Ministry of labour briefed on overall social protection measures in place, achievements and challenges. The presentation of the Ministry of health included aims of the social policy in heath sector: achievements and challenges. WHO made a presentation on governing priorities, inter-sectoral cooperation within the Donor Coordination Council (DCC), malnutrition and state guarantee package. UNICEF's presentation was very informative and included childhood poverty, social protection measures for children and access of children to health and education.
Representatives of national and international organizations provided the following recommendations to improve the implementation of the SPF in the country:
to strengthen the cooperation of the Government and partners;
to support socially vulnerable families with short-term programs in priority areas through training and the provision of food aid;
to merge to the possible extent the short-term and medium - term programs with long-term schemes to improve access of children and women to food in the most vulnerable families;
to strengthen the long-term projects on management of acute malnutrition. MoH should strengthen the prevention and treatment of malnutrition with involving people or communities;
to increase the level of education of girls and women on social protection, including those of healthy food, nutrition and prevention of child malnutrition and improve access to drinking water;
to develop projects to prevent the effects of rising food costs;
to increase the level of employment, as well as increasing wages and pension benefits;
to develop a strategy on SPF;
to build a more comprehensive understanding of childhood vulnerability;
to assess the bottlenecks and barriers that hinder access to current provisions;
to have a mechanism of social protection for children of migrant families, particularly families who are abandoned;
to develop a long-term plan on demographic change (what will the population look like in 2050).