ООН

Надежный партнер Часть 1
DAFI students involvement in a social activity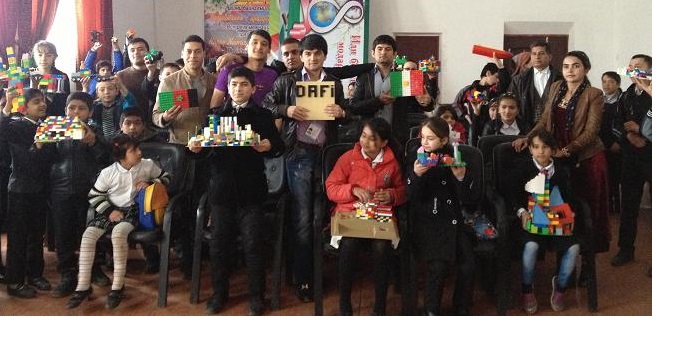 From 7-12 March 2013, UNHCR Tajikistan conducted a youth mobilization activity with the collaboration of ten current DAFI scholars, who were assigned the task of distributing Lego toys in five local schools among 150 school age Afghan refugees and Tajik children. The LEGO toys were donated by the LEGO Foundation after a request from UNHCR Tajikistan through UNHCR Headquarters.
During the visit to each school, the DAFI volunteers explained to the children the reason for their visit and introduce the Lego toys. They also talked about the DAFI scholarship program to motivate the children to become DAFI scholars in the future.
After the short introduction the children were given around 30 minutes of play time. They were divided into small groups and DAFI volunteers were assigned to each group to help them learn the basics of Lego toys. Using their imagination and creativity, the children were able to build some very interesting pieces (see attached pictures). At the end of the day the children were allowed to take home their very own Lego creations.
After successfully completing their assignment, some of the DAFI students shared their experiences with UNHCR staff. "When I was given the task of distributing all the Lego toys in one week, I thought we were not going to be able to make it, but we worked together and managed to do it. I enjoyed the mission and want to know when we will have the next one," a DAFI scholar said.
As part of their duty to engage in community service activities, the DAFI scholars have been encouraged to come up with their own ideas for volunteer work when they meet at the next DAFI monthly meeting, which will also be their opportunity to present a short report of the Lego distribution activity. Currently, 17 university students are scholarship recipients of the DAFI program, which is sponsored by the German government to provide financial assistance to the most vulnerable refugees.