ООН

Надежный партнер Часть 1
Кёкушин Карате подтверждает «Право людей на мир»
Вместе с добровольцем ООН в Таджикистане, молодые спортсмены Национальной Федерации Кёкушин Карате в Таджикистане заявили о важности мира и устойчивого развития в честь Международного дня Мира, который отмечается 21-сентября.
В этом году 30 годовщина Декларации Генеральной Ассамблеи ООН о праве народов на мир. Этот юбилей представляет уникальную возможность подтвердить Декларацию, что укрепление мира является жизненно важным для полного осуществления всех прав человека. Послание Генерального Секретаря ООН в этом году подчеркивает тот исторический факт, что конфликт может закончиться, мир может преобладать, и примирение может восторжествовать с признанием человеческого разнообразия и силы единства человека. Его послание основывается на том, что мир является необходимым условием для достижения устойчивого развития и каждый заслуживает того, чтобы жить в мире.
Молодые каратисты послушали сообщение о том, что устойчивый прогресс человечества и реализация основных прав и свобод зависит от мира и безопасности, отказавшись от конфликтов, поощряя гармонию. Молодые таджикские спортсмены решили заявить о своих усилиях к мирному урегулированию конфликта и построения прочного мира в своих общинах и повседневной жизни. Они обсуждали о том, что скромное поведение со смирением и прощением являются основой для способствования поощрения тепримости и мирного урегулирования конфликтов.
Международный день Мира был утвержден в 1981 году резолюцией Генеральной Ассамблеи ООН. Первый Международный день Мира был проведен в сентябре 1982 года. В 2001 году Генеральная Ассамблея учредила, что Международный день мира будет отмечаться ежегодно 21 сентября как день отказа от насилия и прекращения огня. ООН предложила всем странам и народам прекращать в этот День военные действия, или же отмечать этот День проведением образовательных и общественных информационных акций по проблемам мира.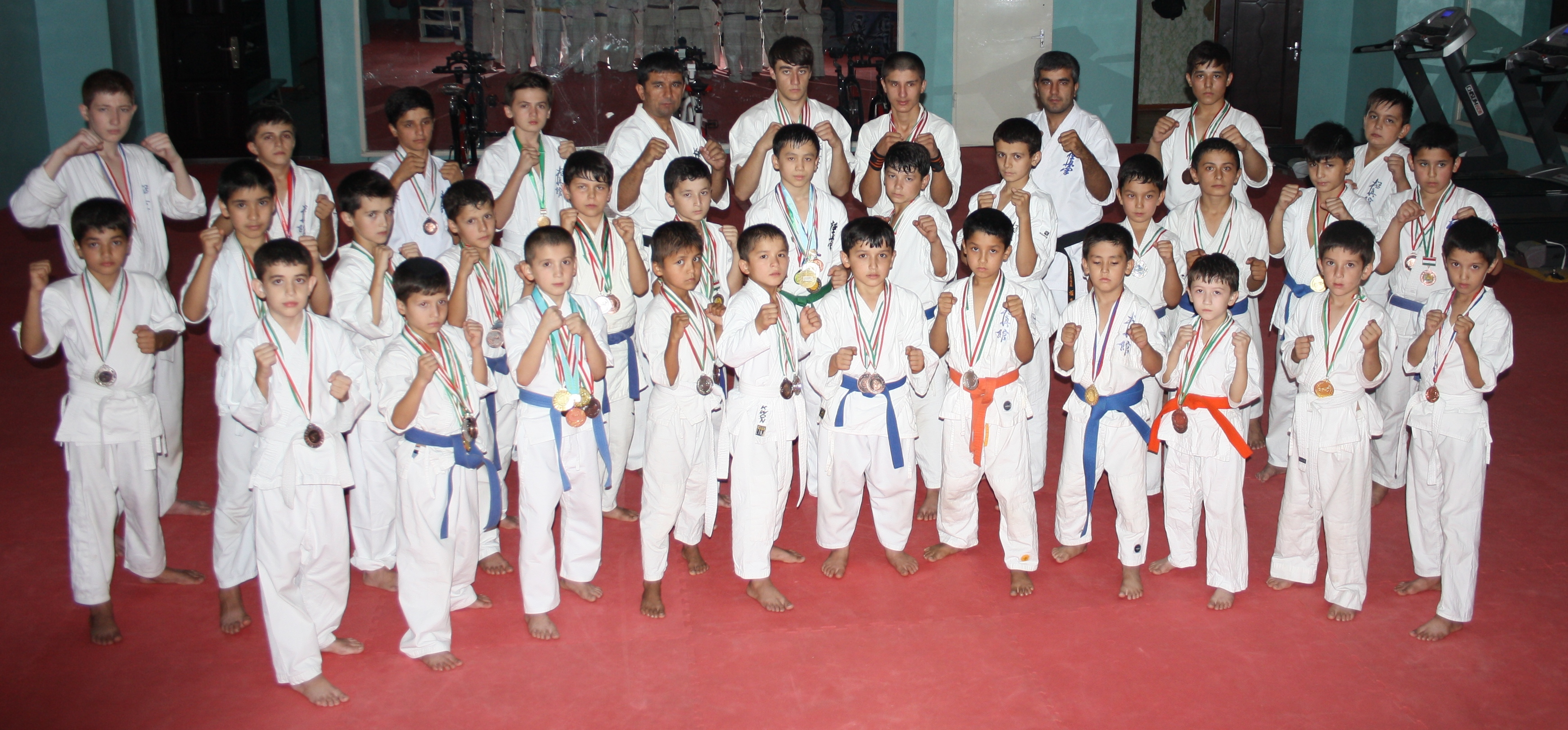 Kyokushin Karate reaffirms "The Right of Peoples to Peace".
Together with a UN volunteerin Tajikistan, young Karate learners of National Kyokushin Karate Federation of Tajikistan reaffirmed the importance of peace for people and sustainable development with comemorating the day of 2014 International Day of Peace (21 September).
This year is the 30th anniversary of the UN General Assembly Declaration on the Right of Peoples to Peace. This anniversary offers a unique opportunity to reaffirm the Declaration that the promotion of peace is vital for the full enjoyment of all human rights. UN Secretary General's message of this year highlights the historical fact that conflict can end, peace can prevail, and reconciliation can triumph, with recognizing human diversity and the strength of human's unity. His message is that peace is a prerequisite for the achievement of sustainable development thus everyone deserves to live in peace.
Young Karate players listened to the message that humanity's sustainable progress and the realization of fundamental rights and freedoms depended on peace and security by renouncing conflict and promoting harmony. Young Tajiks decided to recommit their efforts toward the peaceful resolution of conflict and the building of lasting peace in their communities and daily lives. They discussed that modest behavior with humbleness and forgiveness was the essence to contribute to promoting tolerance and peaceful settlement of disputes.
The International Day of Peace was established in 1981 by resolution of the United Nations General Assembly. The first Peace Day was observed in September 1982. In 2001, the General Assembly established 21 September as an annual day of non-violence and cease-fire. The United Nations invites all nations and people to honour a cessation of hostilities during the Day, and to otherwise commemorate the Day through education and public awareness on issues related to peace.