ООН

Надежный партнер Часть 1
ZERO DISCRIMINATION DAY REGIONAL LAUNCH CONDUCTED IN DUSHANBE
February 27, 2014 through the initiative of the UN Joint Programme on HIV/AIDS (UNAIDS) and the technical support of the UN Joint Advocacy Project on HIV/AIDS (UNAIDS, UNDP, UNFPA, UNICEF) the Regional launch of the very first International Day-Zero discrimination Day, was conducted in Tajikistan.
During official celebration of the event, in UN Country Office in Tajikistan, heads of international and local organizations, representatives of UN agencies, representatives from UNAIDS Regional Office, the Ministry of Health and Social Protection, legal organizations, PLHIV and experts from the CIS countries were discussed the issues on how to overcome stigma and discrimination associated with HIV/AIDS which exists in all parts of the world. Also, presentations on the results of the National Researches on forms of S&Dand main issues of PLHIV associated with these issues sounded.
"I am very excited that the first Regional launch of the new World Day held in Tajikistan. It needs to be mentioned that the Government of the Republic of Tajikistan together with UN agencies have been doing successful work towards the eradication of stigma and discrimination. Currently, development of the legislations, supporting people living with HIV in Tajikistan are in the final stage, as well as other important legislations in this field, that will assist in overcoming stigma and discrimination against people affected by AIDS. Currently, all of us need to take decisive action to support those people in need, fight against stigma and discrimination and protect human rights. I am sure that the new World Day-Zero Discrimination Day will give new impetus to achieve "Zero Discrimination" goal"-mentioned Dr Jean-Elie Malkin, Director, UNAIDS Regional Support Team for Europe and Central Asia.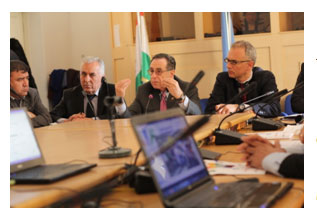 The interesting dialogue between local mass media and representatives of international and local organizations working in the field of HIV/AIDS has provided a good opportunity to share with issues of PLHIV associated with stigma and discrimination. Particularly it was mentioned that mass media plays an important role for correct coverage of this issues and influence to society.
Pulod Jumaev head of Public Organization "Spin Plus" has mentioned that- "People with HIV experience neglect and lack of care, even within their own homes. They are also frequently excluded from community gatherings and feasts. The children of people living with HIV/AIDS are subjected to cruel teasing at school and excluded from games and social interaction with their peers. These stigmatizing attitudes tend to be internalized by people living with HIV and can have serious adverse consequences on their emotional, as well as physical health. Stigma also deters people from being tested or even using condoms for fear of
being 'branded' as HIV positive. Besides being socially excluded and marginalized, many people living with HIV are systematically denied their basic human rights, such as the right to health, housing, education and employment protection".
"Women living with HIV are particularly vulnerable to violations of their rights. The following key factors such ignorance and fear, cultural norms and values, some religious teachings, the absence of legal sanctions, lack of rights awareness and inaccurate and/or irresponsible media coverage contribute to the incidence and perpetuation of stigma and discrimination in society"-emphasized Takhmina Haidarova representative from PO "Network of WomenLiving with HIV/AIDS".
Also, the television bridge with experts from UN and health sector of Belorussia gave additional opportunities to exchange the ideas on elimination of Stigma and discrimination in our society.
During nonofficial part of Zero Discrimination Day celebration, interesting events with involvement of youth and young sportsmen with slogan "Youth Against Discrimination" were conducted. Video clips dedicated to Zero discrimination day were demonstrated. Information materials with Zero Discrimination Day messages were disseminated among students at city colleges. Participants had a great opportunity to
find out information on stigma and discrimination in society and most successful ways for reducing it.
Information:"Zero Discrimination" international campaign was launched on 1 December 2013 by Michel Sidibé the Executive Director of UNAIDS and Daw Aung San Suu Kyi, Nobel Peace Prize winner and UNAIDS Global Advocate for Zero Discrimination. In the framework of this campaign, "Zero Discrimination Day" was announced as a new International Day, which will be globally celebrated on 1 March 2014. The campaign has adopted the butterfly as the transformative symbol for zero discrimination. This new international day provides an additional opportunity to draw attention of society to issues of stigma and discrimination associated with HIV and encourages people to do everything possible in order to achieve zero discrimination goals.
For more information, contact: Ulugbek Aminov, UNAIDS Country Officer at: AminovU@unaids.org or Bakhtiyor Mirzoev, Advocacy and Communication Officer, UN Joint Advocacy Project on HIV in Tajikistan at: Bakhtiyor.mirzoev@undp.org.