ООН

Надежный партнер Часть 1
"Life is a pleasure when we share it with like-minded people"
This worldly wisdom says Olufta Kaarbekova who over the past months has gone all the way from being an abandoned wife without a home to becoming the leader of the first dairy in Jirgatol. The start-up entrepreneur has innovative plans for her milk processing business, which are supported by a UN Women project.
The host's warmth wipes away the cold weather which has found its way into Jirgatol, the mountainous Rasht Valley district in the north-east corner of Tajikistan. The host is 39-year-old Olufta Kaarbekova who – typically representing Tajik hospitality – welcomes her guests with a variety of local delicacies: freshly made Qurut, the traditional dried milk bowls, and Chakka andChurgot, two types of sour milk. The discussion makes clear that the host herself considers this warm welcome as something extraordinary. Her clear, but thoughtfully pronounced words say: "A year ago, I would not have been able to stand here with a smile."
A year ago,Olufta Kaarbekova was in the middle of an energy-consuming, exhausting process – a process which finally should bring back happiness and warmth into her life. The preceding years had been dominated by difficulties: First, Olufta Kaarbekova suffered from the serious mental illness of her first husband. Then, her second husband left her and the two children for work to Bishkek. "After he had broken all ties and filed for divorce, his relatives started harassing me and the children. They forced us to leave the house", recalls the abandoned wife.
Abandonment concerns an estimated 300,000 households in Tajikistan – a country which is thoroughly affected by labour migration. In this context, the project "Empowering abandoned women from migrant families in Tajikistan", jointly implemented by UN Women and IOM with a financial support of Norway's MFA, aims to provide a comprehensive set of support to one of the most vulnerable population groups – with success: The project in two regions reached out to 3,000 abandoned women who today constitute 326 collective platforms for support and cooperation, so called self-help groups. 1,800 of these women live in the Rasht Valley, one of them is Olufta Kaarbekova.
Excluded from her former home and all properties, the woman from Jirgatol learned about the project's activities and became active herself: She joined a self-help group which specialised in dairy production. "I used to hold two cows and convert their milk into different dairy products", says Olufta Kaarbekova. "Milk processing is what I am good at and what I do with most pleasure." This year, the self-help group officially registered as a public initiative body called "Asamat". Olufta Kaarbekova with her ambitious and skilful engagement became the leader of the first dairy in Jirgatol, which "Asamat" equally stands for.
Economic activity and self-reliance figures as one important, but not the only purpose that, as the teller puts it herself, "made me belief in life again". The second part could be rebuilt only step-be-step in a process that everyone involved calls a tiresome fight leading through courts and family clans. "Very unfortunately, many abandoned wives need to go through this fight in order to assert their rights", says Saidali Saidrakhmonov. He is the Director of "Surkhob", a local NGO which engages in social protection in the Rasht Valley and which with this expertise supports self-help group members in need with legal advice. Thanks to the support of "Surkhob", Olufta Kaarbekova and her children are today paid the alimonies and provided with a home which they are legally entitled to. Although twelve kilometres away from the centre of Jirgatol and thus from her work place, she joyfully describes her new home as "a beautiful place" where she now lives safely with her daughter and son, 12 and 6 years old.
The words with which Olufta Kaarbekova tells her story reveal one deep wisdom: "Life is a pleasure when we share it with like-minded people." Her personal protagonists consist of all fellow human beings from whom she knows that they firmly stand on her side: the legal supporters from "Surkhob", the staff from the NGO "Fidokor" which provide self-help groups with technical support on business development and local coordinator Aisuluv Jenalieva who to many means a mother and mentor in one person. By coordinating all needs and skills of the self-help group members in Jirgatol, she personifies the comprehensive approach which the project aims to apply by providing abandoned wives with legal, social and economic support.
"Asamat" is one among twelve innovative Joint Economic Initiatives in the Rasht Valley that UN Women supports through the project. At present, the renovated dairy is the collecting point for the milk – in summer up to 600 litres daily – coming from all neighbouring villages as well as the production site of Qurut, Chakka, Churgotand other dairy products which are sold in the region's centre and the country's capital, in Garm and Dushanbe. "The many tourists and alpinists visiting Jirgatol in summer constitute a new clientele with a preference for cheese", says "Asamat" initiator Aisuluv Jenalieva with a promising wink – and professional expert Olufta Kaarbekova enthusiastically starts speaking of new products and production methods. These business plans will hopefully also allow the leader of the dairy to realise a personal dream: to have in her new home her own cow again.
Caption: (all photos © UN Women):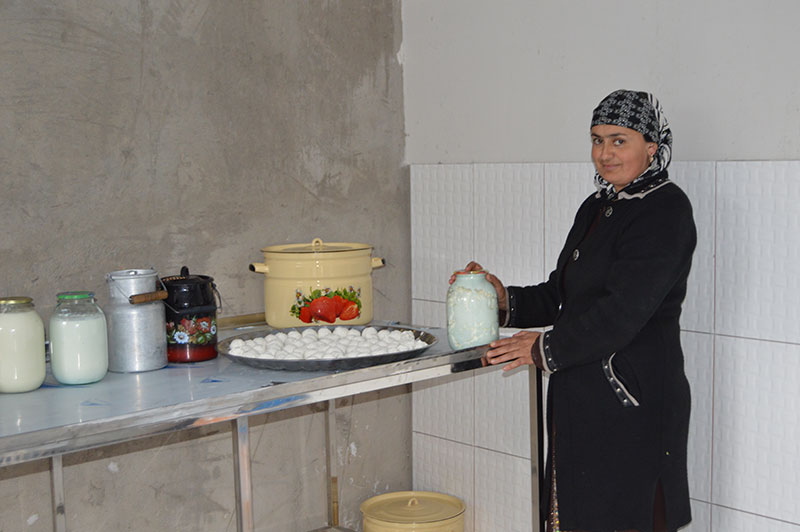 Olufta Kaarbekova in her renovated dairy.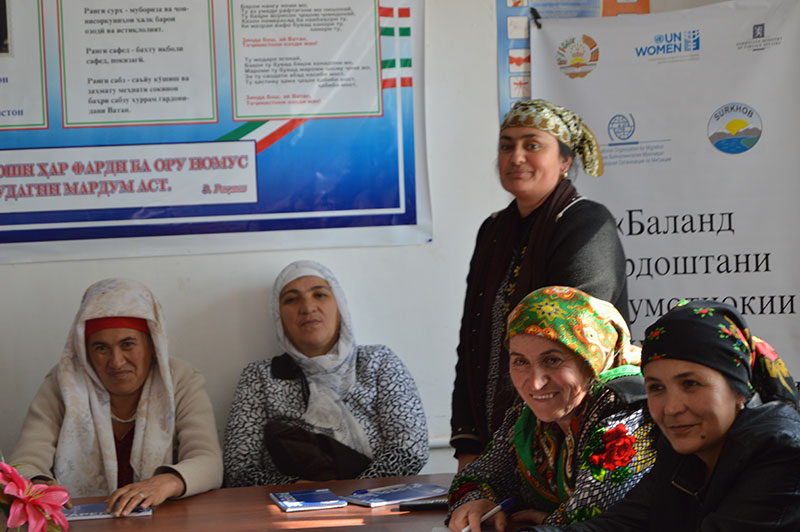 Olufta Kaarbekova participating in a business development training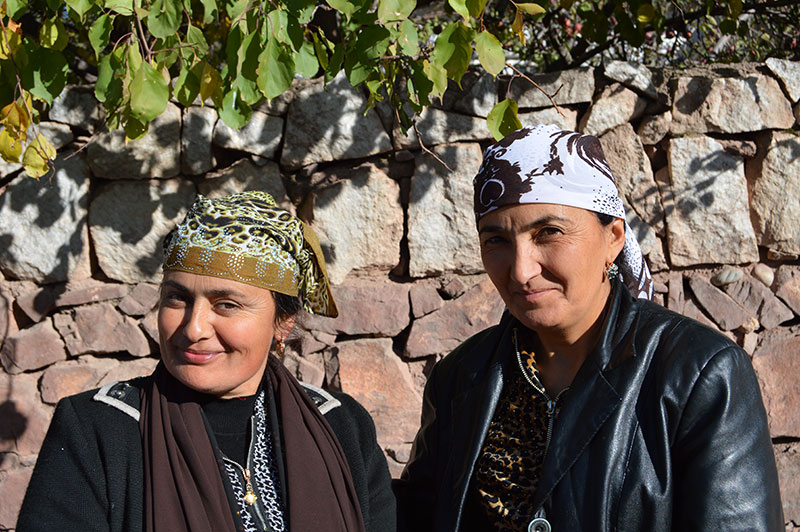 Olufta Kaarbekova with her mentor Aisuluv Jenalieva